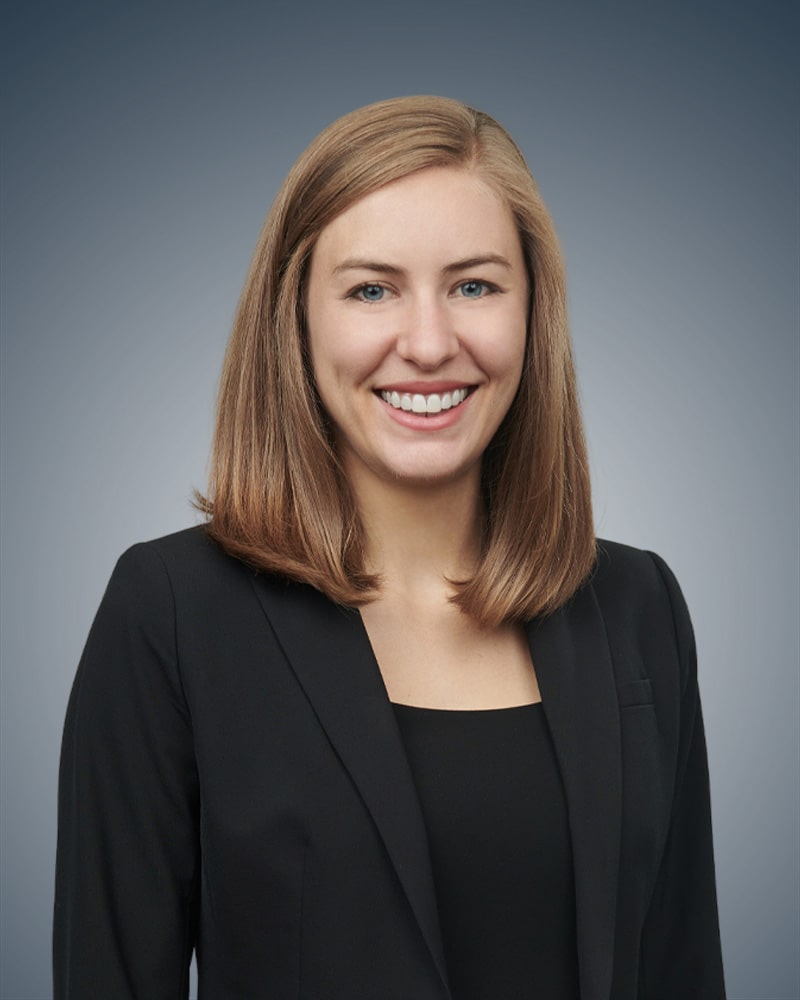 Ingrid M. Johnson
Associate
Office: 515-242-2439
Fax: 515-283-0231
Specialties
I'm an estate planning attorney and I focus my practice on wills and trusts, probate and trust administration, and business succession planning.
I have an excitement and curiosity for law that has led me into multiple practice areas. I started my practice as a litigator trying cases relating to contract disputes and employment law. I briefly tried my hand at family law and eventually transitioned into transactional law with a focus on corporate governance and negotiating contracts. While I now focus on estate planning, this work often involves the other areas of law I have practiced. I enjoy estate planning work because it's about your life and the life of your loved ones. I enjoy getting to hear your stories and helping you create a legacy to live on for your loved ones.
My Approach
I have found that my previous experience in multiple areas of law has enriched my estate planning practice because estate planning can touch so many aspects of a client's life. Corporate law could come into play if a farm would be best managed in an LLC. I've seen what happens when beneficiaries disagree and litigate so I know what issues can arise and how we can work to avoid them. Even my work in the employment area comes in handy when dealing with retirements accounts or other employee benefits in an estate plan. I believe my experience allows me to give you practical and well-rounded advice. You are doing a great service to those you leave behind by creating a plan for your estate, and I want to make every effort to make sure your legacy is protected.
More about Me
I come from a family full of lawyers so I guess you could say it's in my genes. I'm from Austin, Minnesota and went to college in Decorah, Iowa. I graduated summa cum laude from Luther College in 2014 with a B.A. in English and Political Science. I earned my J.D. from the University of Colorado Law School in 2018, graduated in the top 5% of my class, and became a member of the Order of the Coif. While in law school, I worked on the Colorado Technology Law Journal and served as a judicial extern for Justice Boatright on the Colorado Supreme Court. During my third year of law school, I moved back to Iowa and completed two visiting semesters at the University of Iowa College of Law. I was admitted to practice law in Iowa in 2018. I volunteer with the Midwest Innocence Project, helping exonerate the wrongfully convicted, and am a member of the Polk County Bar Association, Iowa State Bar Association, and American Bar Association.
My Specialties
Estate Planning
Estate and Trust Administration
Business Succession Planning
Trust & Estate Litigation
Supreme Court Decides Cheerleader's Snapchat Profanity is Protected Free Speech
09-12-2021 The Supreme Court's recent First Amendment decision leaves open questions for school districts regarding their ability to regulate their students' off-campus online speech. On June 23, 2021, the Supreme Court decided that Mahanoy Area High School could not discipline a student for her off-campus online speech criticizing her cheerleading squad....
Read More
Representing Yourself or Your Business in a Small Claims Action
08-13-2019 A small claims action can be filed if the amount demanded is $6,500 or less. You can choose to represent yourself in a small claims action or hire an attorney to help. If you would like to represent yourself, the Iowa Judicial Branch website has some good resources for explaining the process: Essentially, this is the process for filing a small...
Read More
No News Posts Currently Available
Assistant
Kelley Vierling
515-558-8870
Undergraduate
Luther College
B.A., English and Political Science, summa cum laude, 2014
Legal
University of Colorado Law School
J.D., 2018, Order of the Coif
Admitted
Iowa, 2018
Memberships & Associations
Des Moines Estate Planners
Member
Polk County Bar Association
Member
Polk County Women Attorney Member
Iowa State Bar Association
Member; Probate, Trusts & Estate Planning Section
American Bar Association
Member; Real Property, Trust, and Estate Section
Young Professionals Connection
Member
Midwest Innocence Project
Volunteer
Order of the Coif
Phi Beta Kappa
Downtown Neighborhood Association Member