BrownWinick Welcomes Mackensie Graham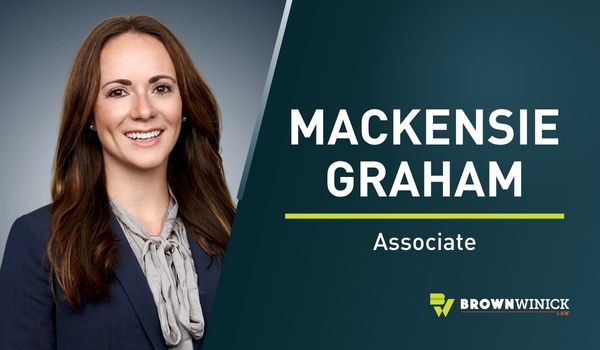 BrownWinick is proud to welcome associate attorney Mackensie Graham to the firm. Mackensie, a former BrownWinick summer associate, has joined BrownWinick's Corporate and Business Transactions and Employment and Labor teams to work on a variety of matters including forming a business, keeping operations compliant, or navigating tricky employment complaints to name a few.
"We are excited to welcome Mackensie back," said Sean Moore, managing partner of BrownWinick. "She brings a wealth of knowledge and expertise along with her, and she is an excellent addition to our firm."
Prior to joining BrownWinick, Mackensie earned her Bachelor's degree from Drake University, then graduated from the University of Northern Iowa with a Master of Public Policy and a certificate in Public Administration in 2017, and finally went on to attend and graduate from the University of Iowa College of Law, with her J.D. in 2021. After law school, Mackensie worked for a year as an associate with a firm in Cedar Rapids.
During her time in law school, she represented and advocated for the interests of nearly 10,000 students as President of the Graduate and Professional Student Government. She mentored Student Writers in her role as Note & Comment Editor for the Iowa Law Review and collaborated with amazing clients as a Student Practitioner with the Community Empowerment Law Project. She was also the Iowa Student Bar Association Representative to the Iowa Law School Foundation. In 2021 she received the Hancher-Finkbine Distinguished Student Leader Award.
Currently, Mackensie's practice focuses on business transactions, employment matters and governmental and regulatory issues. She is also a member of the Iowa Bar Association and the American Bar Association. Visit her attorney page to learn more.