2021 Iowa Legislative Session - Week One Summary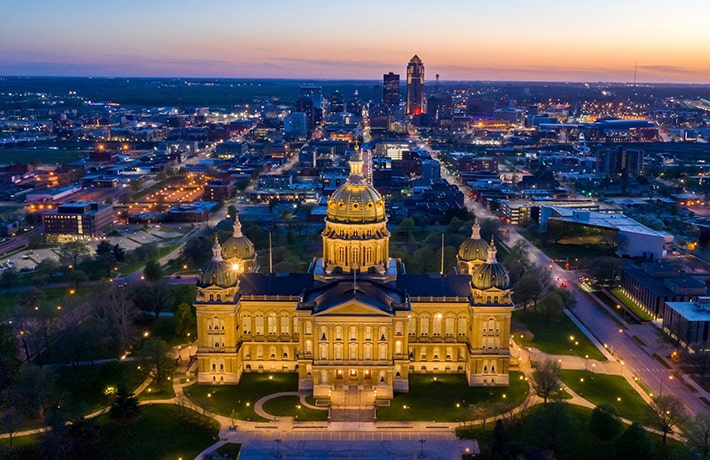 The legislature convened for the 89th General Assembly Monday, welcoming 26 newly-elected lawmakers to the statehouse. With Republicans maintaining their majority in the Senate and expanding it in the House, the GOP will continue driving the state's policy agenda for the next two years.
In his opening remarks, House Speaker Pat Grassley (R-New Hartford) said "disciplined budgeting," affordable childcare, addressing the public assistance wage cliff, and bringing students back to the classroom were among his caucus's top priorities this year. Senate Majority Leader Jack Whitver (R-Ankeny) said Republicans in that chamber would focus on cutting taxes, conservative budgeting, and ensuring schools returned to in-person learning. Both House Democratic Leader Todd Prichard (D-Charles City) and Senate Democratic Leader Zach Wahls (D-Coralville) called on lawmakers to aggressively fund COVID-19 relief for Iowans.
On Tuesday Governor Kim Reynolds released her proposed budget and delivered the annual Condition of the State address. Like House and Senate Republicans, Reynolds stressed that returning all schools to in-person learning was among her top priorities. She also proposed allowing open enrollment in all school districts, expanding public charter schools, and making work-based learning available in every high school. To help fund these initiatives, she proposed a 2.5% school spending increase, plus another $20 million in COVID-19 relief for certain districts.
Reynolds also named childcare, mental health, and tax cuts among her priorities. To that end, she requested lawmakers allocate $3 million to the Child Care Challenge Fund, which was established last year to encourage employers and communities to collaborate on childcare startups. The governor noted she would also use $25 million in childcare development block grants to further that agenda. She also proposed an additional $15 million in mental health funding and called on lawmakers to eliminate the economic benchmarks, or "triggers," that Iowa must achieve before tax cuts passed in 2018 can take effect.
In addition to exacerbating childcare, education, and mental health issues Reynolds said, "As we've seen during the pandemic, high-speed internet is as vital to our communities as running water and electricity; if they don't have it, they can't grow." She added, "I'm done taking small steps and hoping for big change. This is the time for bold action and leadership. Let's plant a stake in the ground and declare that every part of Iowa will have affordable, high-speed broadband by 2025." To achieve that goal, Reynolds requested $450 million in broadband funding over three years, which she said would enable Iowa to "leverage millions more in private investment." Her proposed budget would increase overall state spending by 3.7% for FY22, for a total of $8.1 billion.
Learn More
To stay up-to-date on the 2021 Iowa Legislative session or to learn more about BrownWinick's Lobbying and Public Policy team, click here.