Four New Estate Planning Attorneys Join BrownWinick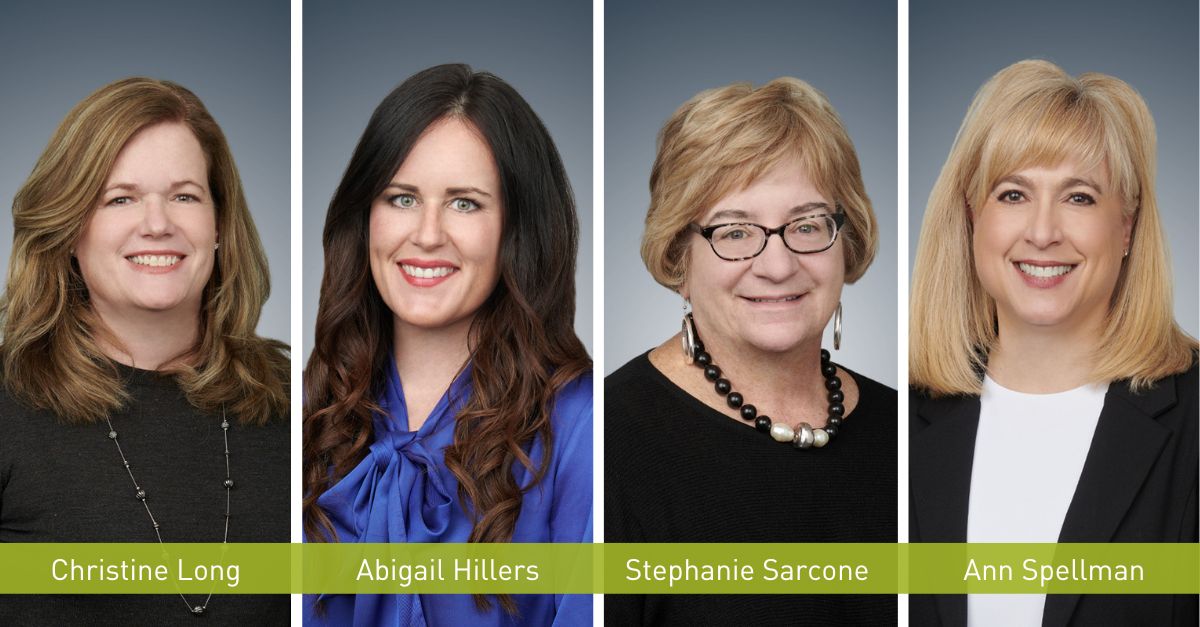 BrownWinick is pleased to announce the addition of Christine Long, Abigail Hillers, Stephanie Sarcone and Ann Spellman to the firm. These four highly experienced attorneys, combined, bring more than 108 years of experience in estate planning and expertise in hands-on, client-focused service.
Each attorney has a strong background in providing comprehensive estate planning services to individuals and families, including wills, trusts and powers of attorney, as well as more complex planning strategies, such as asset protection, business succession planning and charitable giving. They have already brought tremendous value to the clients they serve and will continue to do so in the future.
"BrownWinick is one of the leading estate planning firms in the state, and we are thrilled to have Chris, Abigail, Stephanie and Ann join our team," said Sean Moore, Managing Member of BrownWinick. "Their deep expertise in estate planning will enable us to better serve the needs of our clients, so we are confident they will make a significant contribution to our firm and the many clients we serve."
The hiring of Chris, Abigail, Stephanie and Ann underscores BrownWinick's commitment to providing clients with the highest level of legal expertise and personalized service. The firm has a long-standing reputation for excellence in estate planning and is dedicated to helping clients achieve their goals – all while helping them preserve their wealth and protect their loved ones.
"I am excited to join BrownWinick and support the great work already being done here," said Christine Long. "In partnership with Abigail, Stephanie, Ann and the other talented estate planning attorneys at the firm, I look forward to helping clients plan for their futures and safeguard their families through sound estate planning."
With the addition of these four attorneys, BrownWinick is well-positioned to continue providing outstanding estate planning services to individuals and families throughout the Midwest. The firm remains committed to its core values of integrity, professionalism and dedication to clients, and looks forward to the many contributions these new attorneys will make to the firm's success.
Christine B. Long
Christine "Chris" Long is a member attorney at BrownWinick. Her practice revolves primarily around estate planning, and she works with clients to assist in a wide variety of matters including wills, trusts, estates, probate, and business succession planning. She is a member of the Iowa State Bar Association, Polk County Bar Association, the State Bar of Arizona and the Iowa Academy of Trust and Estate Counsel.
Abigail M. Hillers
Abigail Hillers is a member attorney at BrownWinick. Abigail has experience in business and corporate law, real estate law, and estate planning. She focuses on pre-death planning and estate and trust administration which involves helping families transition assets after the death of a loved one. She is dedicated to serving her clients with any issues that may arise. Abigail is a member of the Marshall County Bar Association, Polk County Bar Association and the Iowa State Bar Association.
Stephanie G. Sarcone
Stephanie Sarcone is an of counsel attorney at BrownWinick and her practice encompasses all areas of estate planning. She has extensive knowledge in all areas of wills, trusts, and probate law. Stephanie has previously worked as a wealth management officer for Wells Fargo Bank. She is a member of the Iowa State Bar Association and the Polk County Bar Association.
Ann C. Spellman
Ann Spellman is a member attorney at BrownWinick. Ann's practice is heavily focused on estate planning, trust administration and probate matters but she has experience in corporate matters, and civil trials in both state and federal courts.
Ann is an active member in the Iowa State, Polk County and American Bar Associations. She is also a member of the Iowa Academy of Trust & Estate Counsel.
For more information about BrownWinick and its estate planning services, please visit brownwinick.com/services/estate-planning.