Chambers USA 2023 Guide Recognizes Eight BrownWinick Attorneys and Four Practice Areas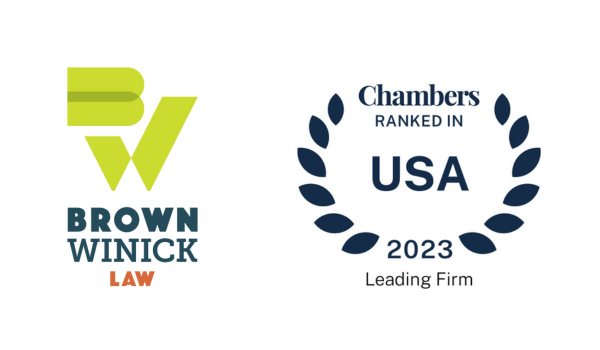 BrownWinick is proud to announce the recognition of several of its attorneys in the prestigious Chambers USA 2023 guide. Chambers USA is an esteemed legal directory that evaluates and ranks attorneys and law firms based on their legal expertise, professional achievements, and client feedback. The rankings and accolades received in Corporate/M&A, Litigation, and Real Estate as well as the firm's overall rankings in Iowa, are a testament to the knowledge, skill, and dedication of the attorneys at BrownWinick. Clients can trust that when they engage the services of BrownWinick, they are working with a team of highly respected and accomplished legal professionals who will tirelessly advocate for their interests.
Corporate/M&A Practice
In the field of Corporate/M&A, BrownWinick boasts a formidable team of attorneys who have received commendable rankings in the Chambers USA 2023 guide. William Brown, has been recognized as a Senior Statesperson, a title reserved for lawyers who have made significant contributions to the field throughout their careers. Doug Gross, another prominent attorney at BrownWinick, has achieved an impressive Band 1 ranking, reflecting his exceptional skills and extensive experience in corporate and M&A matters. Drew Larson, an Up-and-Coming attorney, has also garnered attention and recognition in this practice area. Finally, Chris Sackett has been ranked in Band 2, showcasing his noteworthy contributions to the firm's Corporate/M&A practice.

Litigation
BrownWinick's litigation team is well-regarded, and the Chambers USA 2023 guide acknowledges the expertise and achievements of several attorneys in this practice area. Mike Dee and Brian Rickert have both received Band 2 rankings, underscoring their substantial litigation experience and successful representation of clients. Jennifer Lindberg, an emerging talent in the field, has been recognized as an Up-and-Coming attorney, demonstrating her dedication and potential for future success.
Real Estate
In the Real Estate practice area, Karen Karr has been acknowledged with a Band 3 ranking, affirming her expertise and accomplishments in real estate law. Her inclusion in the Chambers USA 2023 guide further enhances the reputation of BrownWinick as a go-to firm for real estate matters.

Iowa Practice Rankings
In addition to individual attorney rankings, BrownWinick has achieved impressive practice area rankings in Iowa. In the Corporate/M&A practice, the firm has been ranked in Band 2, showcasing their strength and proficiency in handling complex corporate transactions. The Labor & Employment practice has received a Band 3 ranking, reflecting the firm's dedication to providing effective counsel in employment-related matters. The Litigation practice has also been ranked in Band 2, a testament to BrownWinick's exceptional litigation skills and track record of success. Finally, the Real Estate practice has achieved a Band 2 ranking, further solidifying the firm's expertise in this field.
Ranked Attorneys:
Corporate/M&A:
Litigation:
Real Estate:
Iowa Practices Rankings:
About 

Chambers USA
Chambers USA is the leading legal directory, ranking top lawyers and law firms across the USA. These legal rankings are based on in-depth market analysis and independent research, all of which is conducted by a dedicated team of researchers. The Chambers USA team continues to work with law firms of all sizes, from boutique to global, to ensure all aspects of the US legal market for clients of all sizes and requirements are covered. The rankings and editorial comments concerning the attorneys are independent and objective. Inclusion in the guide is based solely on the research team's findings. Chambers is widely viewed among the most highly respected publications in the world with regards to rating lawyers, in part because inclusion cannot be purchased.