BrownWinick Welcomes Nine Law Students to the 2023 Summer Associates Program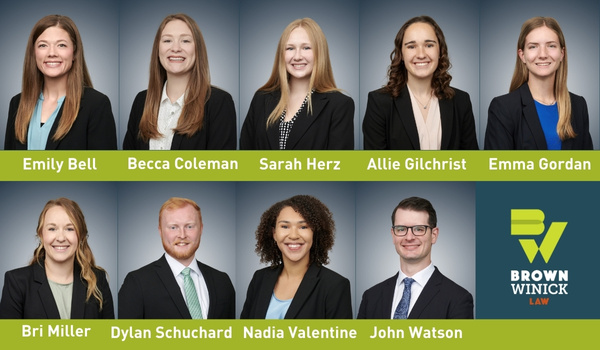 BrownWinick is pleased to welcome nine law students into this year's 2023 Summer Associate Program. This program offers law students the benefit of working at a full-service law firm while providing the personal attention more characteristic of a smaller firm. Lawyers at all levels work closely with summer associates and the firm strongly encourages the lawyers to involve summer associates in the cases and transactions on which they are working. For example, summer associates often have the opportunity to attend client meetings, help to prepare witnesses for their testimony at trial, and to attend depositions, hearings and trials.
"We are excited to welcome this outstanding group of students to our firm this summer," said Brian McCormac, Recruiting Committee Chair. "Our summer program offers a stimulating experience that allows the students to work on challenging assignments across various practice areas, which will prepare them for their future after law school. The firm also provides social and team building activities that highlight Des Moines' features and offer opportunities for the students to familiarize themselves with their peers while immersing themselves in the firm's culture."
Learn more about the Summer Associate Program here.
Get to know the 2023 Summer Associates:
Emily Bell
Emily is a 3L at Drake University Law School, although she is originally from Aurora, Colorado. Emily chose to pursue a law degree because she wanted to be able to help people navigate difficult problems in their lives by providing them with the information they need to make an informed decision that leads to a successful result. This summer, Emily is interested in Corporate Transactional, and Employment work. When she has free time, Emily enjoys cooking, working out and spending time with friends and family.
Becca Coleman
Becca is originally from Indianapolis, Indiana but moved to Des Moines with her husband in 2020. Currently, Becca is a 3L at Drake University Law School. Becca is interested in working with our Intellectual Property practice group this summer. To Becca, a law degree seemed like the perfect way to combine her skills and interests. With a background in science, Becca hopes a career in intellectual property will allow her to continue learning every day and stay up to date with the scientific community. In her free time, Becca enjoys baking desserts, walking or hiking with her two dogs, and participating in sports leagues around Des Moines.
Allie Gilchrist
Allie Gilchrist is from Norwalk, Iowa and is currently attending the University of Iowa College of Law as a 2L. Allie is interested in Corporate, M&A, and Estate Planning law this summer. Law school has been in the back of Allie's mind since high school as she loved analyzing situations from all perspectives, and she realized she had a passion for using her voice to advocate for others. In her free time, Allie enjoys going to Iowa football games and other sporting events.
Emma Gordon
Emma Gordon attends the University of Iowa College of Law and is a 2L there. She is originally from Mediapolis, Iowa and she is interested in Transactional, Employment and Energy law. Emma's background in economics and her desire to help and develop relationships with people is what led her to a law degree. Outside of work, Emma enjoys being active outside, typically running, hiking or playing sand volleyball.
Sarah Herz
Sarah is a 3L at the University of Iowa College of Law. Currently, she is interested in learning more about Corporate and Employment Law. She is originally from Albia, Iowa. Sarah worked in a nursing home part time for five years while in high school and college. There she witnessed many inefficiencies and neglect during her time there and that experience inspired her to go to law school and specialize in health law so she can assist health professionals with complying with regulations. In her free time, Sarah enjoys weight training and running, as well as cooking, baking, and painting.
Brianne Miller
Brianne Miller is a 2L law student at Drake University Law School. She is originally from Fairbank, Iowa and has an interest in Health law. Before coming to law school, she worked in newborn screening and genetics research and education. Pursuing a law degree allowed an opportunity for her career growth and development. In her free time, Brianne enjoys watching baseball, golfing, line dancing and being outside.
Dylan Schuchard
Dylan Schuchard is a 2L attending Drake University Law School. He is from Clear Lake, Iowa and has an interest in Intellectual Property law. Dylan pursued a law degree because he wanted to continue to challenge himself beyond his engineering degree and find a career that he would be passionate about. Dylan enjoys spending time with his wife, watching soccer and playing the guitar.
Nadia Valentine
Nadia Valentine is interested in Corporate law and Litigation. She is currently a 2L at Drake University Law School and she is originally from La Salle, Illinois. Nadia will be spending the first half of the summer with us as part of the Cady Fellowship program at Drake University. Prior to law school, Nadia was an administrative assistant at a law firm. Her relationships there inspired her to pursue a degree in law. Outside of work Nadia enjoys lifting weights and walking her dogs.
John Watson
John Watson is a 3L at Drake University Law School. He is from Des Moines, and has an interest in Government Relations Lobbying, Gaming, M&A, and Litigation. John decided to pursue a degree in law to make a real difference in his community. When he isn't working John enjoys watching live music, specifically the Dave Matthews Band, skiing and mixing cocktails.