Attorneys Brett Battani, Jacob Schoeck, & Noelle Tipton Join BrownWinick
BrownWinick is pleased to announce the addition of Brett Battani, Logan Namanny, Jacob Schoeck, and Noelle Tipton to our firm. These four will be joining the firm as new associate attorneys practicing in a number of different areas, including intellectual property, business, and corporate transactions, and employment and labor, to name a few.
"All four of these individuals bring with them a unique skillset that will be of benefit to our firm and the clients they will serve," said Sean Moore, BrownWinck's managing partner. "We are very excited to be welcoming them as valuable assets to our team."
Learn more about Brett, Logan, Jacob and Noelle below.
Meet Our New Attorneys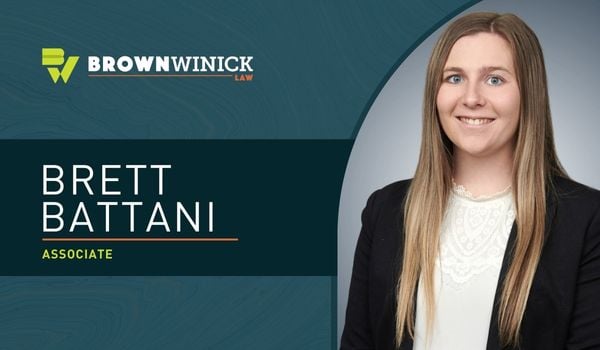 Brett Battani
Brett E. Battani is an associate attorney at BrownWinick. Brett strives to provide her clients with solutions to complicated business and legal matters. Often legal and business issues intertwine and have consequences for the other. Her role provides clients with the most comprehensive and creative list of solutions for them to make the best decision for their business.
Prior to BrownWinick, Brett received her B.A. in International Studies and Political Science, cum laude, from the University of St. Thomas – Minnesota in 2019. During that time she studied diplomacy and international relations in Geneva, Switzerland, and Northern Ireland. In 2022, she graduated from Drake University Law School with her J.D., highest honors, and her M.B.A., summa cum laude. During her time at Drake, she was the Note Editor of the Drake Law Review, served as a Legal Writing Fellow, externed for the Honorable Justice Brent Appel (ret.) of the Iowa Supreme Court, and was initiated into the Order of the Coif after graduation. Brett was admitted to the Nebraska bar in September 2022 and her Iowa admission is pending.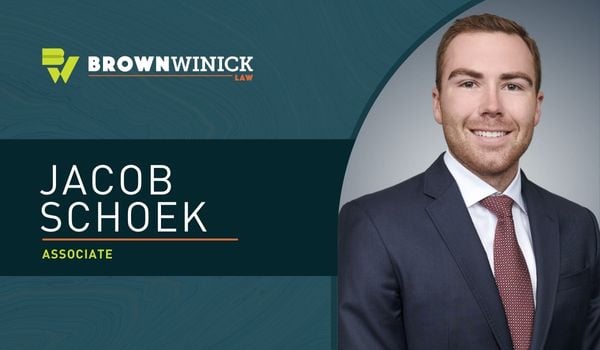 Jacob Schoeck
Jacob R. Schoeck is an associate attorney at BrownWinick. Jacob has a corporate transactional practice that focuses on a wide range of corporate matters including mergers and acquisitions, venture capital, corporate governance, and tax.
Jacob received his B.A., summa cum laude, in Accounting and Finance, with a minor in Mandarin Chinese, from Augustana College in 2019. In 2022, he received his J.D., with a business law concentration, from William & Mary Law School, the nation's oldest law school. While in law school, Jacob served on the William & Mary Business Law Review and as a member of the Business Law Society and the Alternative Dispute Resolution Competition Team. Prior to joining BrownWinick, he served as an intern for Chief U.S. District Court Judge Sara Darrow. Jacob also completed internships with the United States Department of Justice, Deloitte, and John Deere.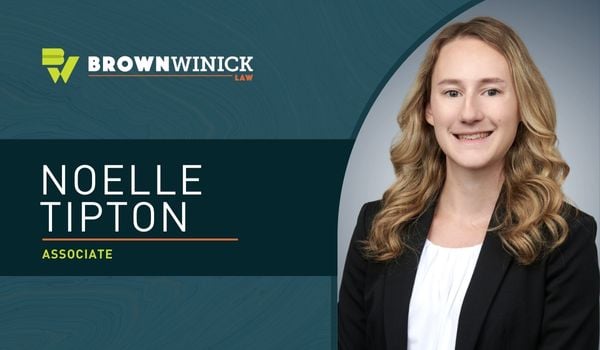 Noelle Tipton
Noelle M. Tipton is an associate attorney at BrownWinick. She is a part of the firm's Intellectual Property practice group and has a practice managing and protecting Intellectual Property.
Noelle attended Iowa State University and received a B.S. in Microbiology. After deciding that she wanted to help people working on new and innovative ideas, she decided to attend law school and focus on Intellectual Property law. Noelle attended Drake University Law School and graduated in 2022. During law school, she was involved in the Drake Law Review, Intellectual Property Law Society, and the Drake Law Women. Her favorite experience was becoming a student attorney in the Drake Entrepreneurial and Transactional Law Clinic, where she had the opportunity to assist clients in forming and growing their businesses. Noelle was admitted to the Iowa bar and the U.S. Patent and Trademark Office in 2022.