Attorneys Danielle Smid and Margaret Hibbs Promoted to Members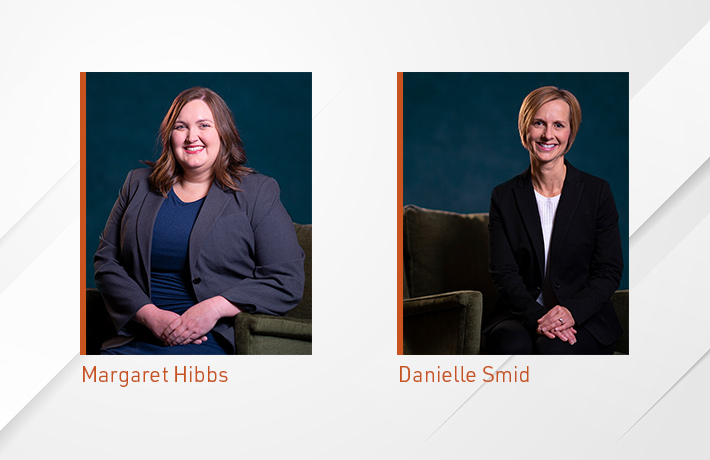 Two attorneys have recently been promoted to members at BrownWinick. This class of shareholders includes attorneys from the Employment & Corporate Transaction practices. BrownWinick would like to congratulate Dani and Maggie for recently being voted in as members to the firm and for their continued pursuit of excellence in service to our clients.
Danielle ("Dani") D. Smid joined BrownWinick as an Associate in 1998, leaving BrownWinick in 2012 to become in-house counsel at Alliant Energy, and then returned to BrownWinick in 2019. She is actively involved in the firm's Employment Practice Group and is Co-Chair of the firm's Diversity and Inclusion Committee. Dani's practice includes counseling employers in HR policies and procedures; unlawful discrimination, harassment, and retaliation; whistleblower issues; FMLA; Iowa state and federal wage and hour issues; reduction in forces; restrictive covenants; discipline and termination issues; and drug testing policies and procedures. Dani earned her B.S. from Iowa State University in 1995 and her J.D., with honors, in 1998 from Drake University Law School.
Margaret ("Maggie") A. Hibbs joined BrownWinick as an Associate in 2014 and is a Co-Chair of the firm's Corporate Transactions Practice Group. Her practice includes counseling clients in banking and secured financing transactions, mergers and acquisitions, and Hart-Scott-Rodino/antitrust compliance. Maggie represents business clients in various aspects of their operations, including entity formation, board of director operations and duties, shareholder matters, and contract drafting. Maggie also provides legal services within the banking, insurance, and agribusiness industries. Maggie graduated from Luther College, magna cum laude in 2009, receiving her B.A. in Political Science, and received her J.D., with highest honors, in 2014 from Drake University.