Returning Employees to the Workplace? We've Got You Covered.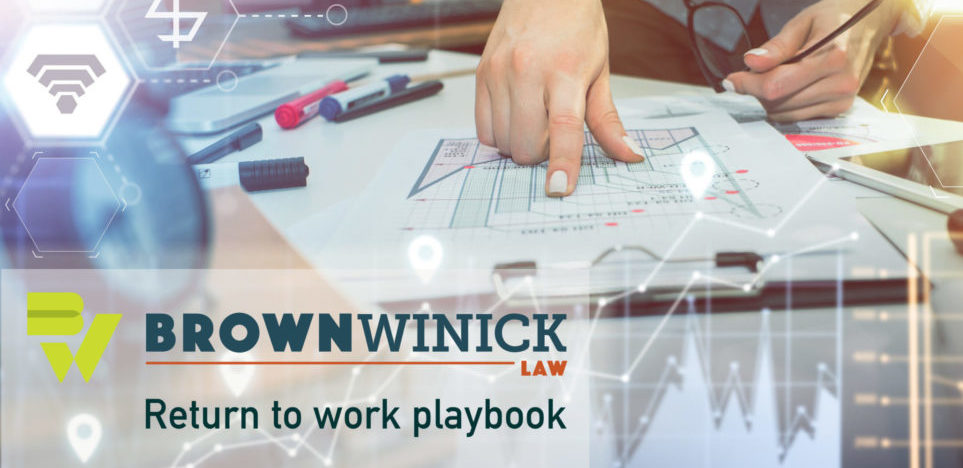 BrownWinick's Employment Practice Group has prepared a "Return to Work Playbook" to assist employers in returning employees to the workplace during this unusual and unprecedented time. The people contributing to this effort include Megan Moritz and Danielle Smid.
The "Return to Work Playbook" (or Playbook) will be used as a tool with attorney consultation to provide guidance on the following:
A general overview of the laws applicable to return to work situations – including new federal leaves, unemployment compensation and financial relief laws
How to Determine Who Returns to Work

Deciding Who Provides Input – diverse input can help improve the decision-making process
Selecting the Criteria – gauging the employee skills needed to meet business needs
Analysis of the Pool – reviewing the employees selected/not selected to return to avoid improper biases
Paycheck Protection Program (PPP) Considerations
Phased Recalls and the PPP
Leave and Reinstatement Considerations
Employee Communications
Termination of Employees
WARN Requirements
Employees Who Choose Not to Return
Includes sample correspondence with employees

Safety and Compliance with OSHA and CDC Guidelines

OSHA
CDC and Local Health Authorities
Reporting Requirements
Special Considerations: Vulnerable Employees
Includes sample policies

Employee Screening

Legal Considerations and Best Practices
Includes sample screening questions

Telecommuting/Work From Home – including data privacy concerns
Family and Child Care Issues
Customers, Vendors and Visitors
Avoiding Litigation as Employees Return to Work
The attorney consultation includes one scheduled hour-long consultation session. The pricing for the Playbook and attorney consultation is $1,500 for current BrownWinick Clients and $2,000 for new clients. (Our team is glad to provide specialized services and/or services in addition to this offering; however, the pricing for those services will be at our regular hourly rates.)
We are pleased to be able to provide this special offering to help businesses during this uncertain time.
Additional information can be found at brownwinick.com/playbook or you can contact any of the BrownWinick Employment team with whom you work.
COVID-19 Resource Page:
For updates on COVID-19 and new guidance provided by BrownWinick attorneys, please visit our COVID-19 Resource Page.