Intellectual Property Attorney Chris Proskey Exceeds 1,000 Trademarks at the United States Patent & Trademark Office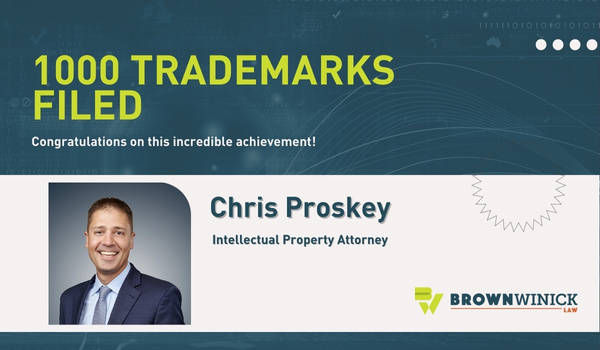 BrownWinick is pleased to announce that Chris Proskey, an Intellectual Property Attorney, has reached a remarkable milestone that deserves celebration and recognition.
With over 1,000 federal trademark filings in his name, Chris has achieved a milestone showcasing his invaluable contributions to the field of Trademark Law. This achievement undeniably demonstrates Chris' position in the upper echelon of trademark law practitioners.
Chris' energetic and creative approach to Trademark Law has empowered this monumental achievement. Chris knows that each client is as unique as their trademark. This insight, paired with his ability to think outside of the box, allows him to develop custom strategies for each of his clients - designed to cater to their individual needs. Additionally, his outgoing personality enables Chris to transcend the standard attorney-client relationship.
Trademark registration is a critical step in safeguarding a company's name and brands, distinguishing them from competitors, and establishing a strong market presence. By navigating the complexities of trademark law, Chris has empowered countless companies to confidently invest in and grow their brands by protecting their most valuable intellectual property.
BrownWinick is incredibly proud of Chris and his accomplishments. If you have any questions regarding trademarks or another aspect of other intellectual property law, reach out to Chris Proskey or any member of the BrownWinick Intellectual Property team. Their expertise and comprehensive understanding of intellectual property law enables them to provide insightful guidance tailored to your specific needs.