Chambers USA 2021 Recognizes BrownWinick Attorneys and Practices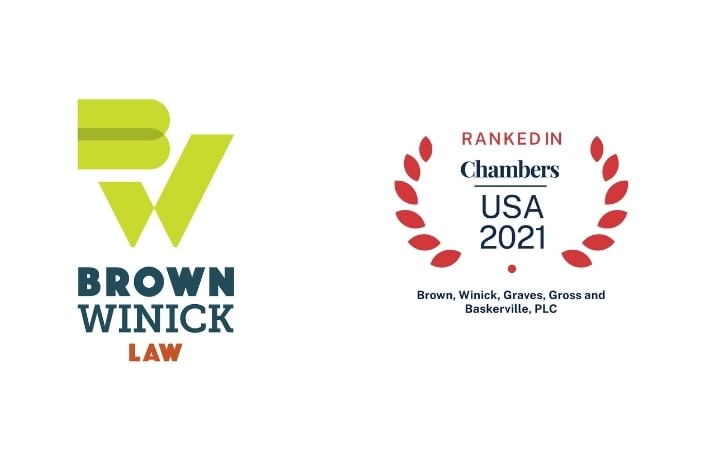 BrownWinick, a preeminent business law firm with offices in Des Moines and Pella, has once again been ranked among leading law firms in the exclusive Chambers USA 2021 Guide. The Chambers USA 2021 Guide is compiled through a research-based review that evaluates the multiple practice areas of hundreds of law firms through investigative research and interviews with attorneys and their clients.
The rankings were assessed according to technical legal ability, professional conduct, client service, commercial astuteness, diligence, commitment, and other qualities most valued by clients.
BrownWinick received rankings in Corporate/M&A; Litigation: General Commercial; and Real Estate. 8 attorneys were highlighted for their work including:
Ranked Attorneys:
Corporate/M&A:
Litigation:
Real Estate:
Iowa Practices Rankings:
About Chambers USA
Chambers & Partners, the UK-based publisher of Chambers USA, conducts research through in-depth interviews with attorneys and clients and then assesses those results via a team of more than 140 full-time researchers and editors.
Individual lawyers are ranked (in their practice-area(s)) on the basis of their legal knowledge and experience, their ability, their effectiveness, and their client service. A law firm ranking relates to a department of the firm, not to the firm as a whole. Where a firm has several departments specializing in different areas of law, Chambers may rank some departments and not others. Law firm departments are ranked on the qualities of their lawyers as above. In addition, Chambers considers the effectiveness and capability of the department as a whole—its strength and depth. These factors and considerations are judged: (a) by interviews with those active in the market—mainly clients (who can be law firms instructing other law firms) and other lawyers with whom they work; and (b) by assessing recent work done. Greater weight is given to the views of the clients, and any biased viewpoints tend to cancel each other out. All interviews are conducted purely for research purposes and are entirely confidential and unattributed. The methodology for the research into the strengths and reputations of U.S. attorneys has been approved by the British Market Research Bureau.
The rankings and editorial comments concerning the attorneys are independent and objective. Inclusion in the guide is based solely on the research team's findings. Chambers is widely viewed among the most highly respected publications in the world with regards to rating lawyers, in part because inclusion cannot be purchased. For more information, visit chambersandpartners.com.