BrownWinick Welcomes Attorneys Amani Tuffaha and Hannah Welch to the Firm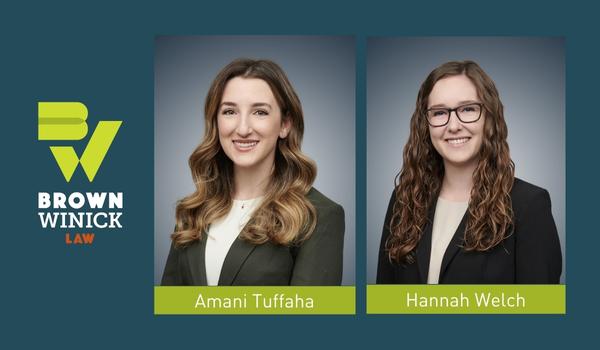 BrownWinick is proud to welcome associate attorneys Amani Tuffaha and Hannah Welch to the firm. Both Hannah and Amani have joined BrownWinick's Corporate and Business Transactions team to work on a variety of matters including business formation, mergers and acquisitions, and business law to name a few.
"We are confident in the expertise, skill, and client service both Amani and Hannah bring with them," said Sean Moore, managing partner of BrownWinick. "They have been excellent additions to our team."
Amani Tuffaha
Prior to joining BrownWinick Amani graduated from Northeastern School of Law in 2019. There, in Boston, she clerked for two firms as well as for the Honorable Judge Allison in the United States District Court for the District of Massachusetts. After relocating to Iowa, she clerked for the group of Judges serving District 2A. Currently, Amani is primarily practicing in Corporate and Business law. She is a member of the Iowa Bar Association, the Polk County Bar Association, and the National Association of Muslim Lawyers.
Hannah Welch
Hannah has joined BrownWinick as a Business and Corporate Transactions, Business Law, and Data Privacy and Security associate attorney. Prior to starting with BrownWinick Hannah worked at a marketing agency in Cedar Rapids, which is where her interest in technology and data security began. In 2018, she attended Drake University Law School where she earned her J.D. degree. Currently, she is a member of both the Polk County Bar Association and the Iowa State Bar Association.