BrownWinick Welcomes Attorney Zoe Wissler to the Firm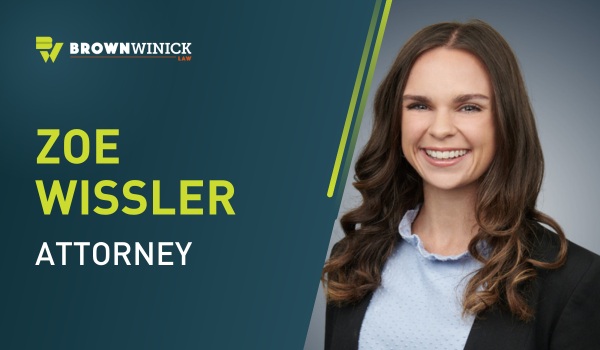 BrownWinick Law Firm recently welcomed attorney Zoe Wissler to our legal team, bringing her considerable skills as a litigator to the firm.
"We are excited to have Zoe here at BrownWinick," said Sean Moore, managing partner of BrownWinick. "She brings with her excellent experience as a litigator and will be a wonderful addition to our team."
ABOUT ZOE WISSLER
Zoe S. Wissler is an associate attorney at BrownWinick. As a litigator, Zoe's goal is to help clients withstand the conflicts that come with business ownership so that they can focus on the prosperity of their business. Zoe enjoys learning about her clients and their industry and providing peace of mind when issues arise. Zoe's goal is to develop an in-depth understanding of her clients and the issue and use innovative solutions to act as an advocate.
Having grown up in Des Moines, Zoe has an appreciation for the local community and all it has to offer. She received her B.A. from Iowa State University in 2018 in Political Science. After undergrad, Zoe worked for a year in the association management industry where she received a wide range of experiences that led to her interest in small business. Zoe graduated from Drake University with her J.D., high honors, in 2022, and was admitted to the Iowa Bar that same year. Zoe is currently a member of the Polk County, Iowa State and American Bar Associations as well as the Polk County Women Attorneys.
Learn more about Zoe here.