BrownWinick Welcomes Attorney Daniel Blakeslee to the Firm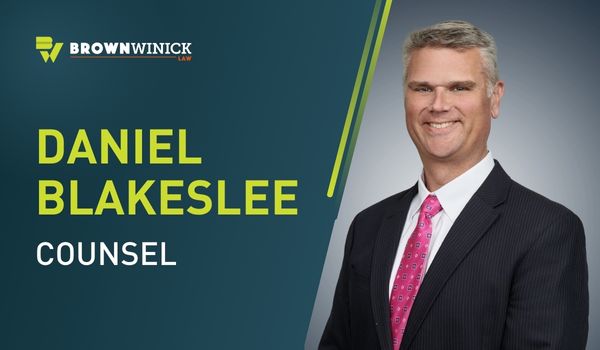 BrownWinick Law Firm recently welcomed Daniel Blakeslee to our legal team, bringing his considerable skills as an intellectual property (IP) attorney to the firm.
With over a decade of experience in IP law, Daniel has developed a reputation as a skilled and innovative attorney, with a deep understanding of the complexities of this field. He has worked with clients across a wide range of industries, from technology and manufacturing to aviation and startups, helping them navigate the often-challenging landscape of IP law.
"We are excited to welcome Daniel to Brown Winick," said Sean Moore, managing partner of BrownWinick. "He brings a wealth of intellectual property and legal knowledge and expertise along with him, and is an excellent addition to our firm."
About Daniel Blakeslee
Daniel M. Blakeslee practices as counsel at BrownWinick. He is an engineer, attorney and finder of solutions for business opportunities. Whether those solutions relate to manufacturing, business, or protecting intellectual property, Daniel has the education, experience, and expertise to find the right solutions and opportunities his clients may not know exist.
Daniel believes that communication is the most important part of his job. It is vitally important that his clients are counseled not only on what their legal and business options are, but why those options are available and how those options affect their business in clear, concise, and understandable language, both to protect his client's businesses from external forces and to help further the mission of their business. Daniel stays up to date on the latest legal changes surrounding innovation and updates and adjusts his counsel to clients based on those changes.
Daniel is originally from Michigan where he graduated from Western Michigan University with a Bachelor's in Aeronautical Engineering. After nearly a decade as an engineer, Daniel completed law school and became a registered patent attorney, which allows him to continue using his knowledge and experience in engineering to help protect the important innovations happening in his client's businesses.
Daniel is a member of the Iowa State Bar Association, American IP Law Association, Iowa IP Law Association and the American Institute of Aeronautics and Astronauts.
Read Daniel's bio page to learn more.