BrownWinick Staff & Attorneys Participate in 2023 Annual Volunteer Day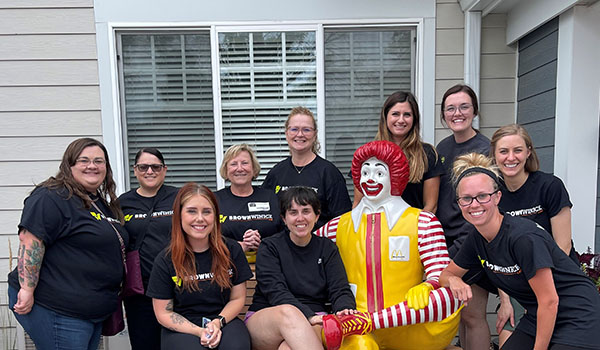 On July 19, 2023, BrownWinick attorneys and staff participated in the firm's annual volunteer day to support several Des Moines non-profit organizations. Groups of staff and attorneys volunteered at four different locations across the metro including the Animal Rescue League; Meals from the Heartland; Habitat for Humanity, and Ronald McDonald House of Des Moines. In total, nearly 90 staff and attorneys were able to participate in this annual event!
Learn more about the organizations we supported below.
Animal Rescue League:
The Animal Rescue League serves people and pets from across the state of Iowa through its programs, which include pet adoption, humane education, pet behavior training, spay/neuter, animal cruelty intervention, and much more.
Here, our volunteers did a variety of different tasks, including cleaning and disinfecting various walls throughout the facility, taking down cobwebs from the outdoor barn, walking a number of dogs and taking some out to play, cleaning up cat condos, pricing t-shirts for sale and preparing dog treat toys.
Habitat for Humanity:
Habitat for Humanity seeks to bring people together to build homes, communities, and hope. They are founded on the conviction that every person should have a decent, safe, and affordable place to live.
Our volunteers participated in Habitat for Humanity's "Rock the Block" program. This program works with residents with needed repair, maintenance, weatherization, safety, accessibility, and beautification of homes. Here, our volunteers were split into two groups. One group worked together to build a new deck for a house. Another group worked on putting together an access ramp and power washing the siding of a house.
Meals from the Heartland:
Meals from the Heartland is an organization fighting hunger in Iowa, as well as around the world. Their packaged meals help feed the hungry throughout the world. Meals are delivered directly to locations in Iowa, the U.S. and around the world — wherever people are undernourished or starving.
At Meals from the Heartland our group assisted in preparing meal bags to be sent out. They helped out with filling, weighing, sealing, and stacking all of the bags.
Ronald McDonald House:
The Ronald McDonald House Charities of Central Iowa provides a home-away-from-home for families traveling to Des Moines to seek medical care for their children. They have two houses, one inside MercyOne Children's Hospital and one near Blank Children's Hospital, so families are only steps away from their critically ill children.
The Ronald McDonald House volunteers all worked together to cook a meal that would later be provided for around 50 people located at the two different house locations.
All these organizations look for volunteers to help them with a number of different tasks throughout the year. If you are interested in assisting any of these organizations, please visit their websites to learn more about how to get involved or volunteer.
BrownWinick's Community Engagement:
Our attorneys and professional staff believe that through involvement and leadership in the community and with local charities and activities, we can help improve the quality of life and strengthen our communities. Our attorneys and staff donate their time and talents by serving on non-profit boards and committees, by providing pro-bono legal work, and by volunteering for numerous activities. In addition, the firm, its attorneys and professional staff provide monetary and other in-kind donations to numerous organizations.
Learn more about our BrownWinick's community engagement here.