BrownWinick Promotes Four Attorneys to Members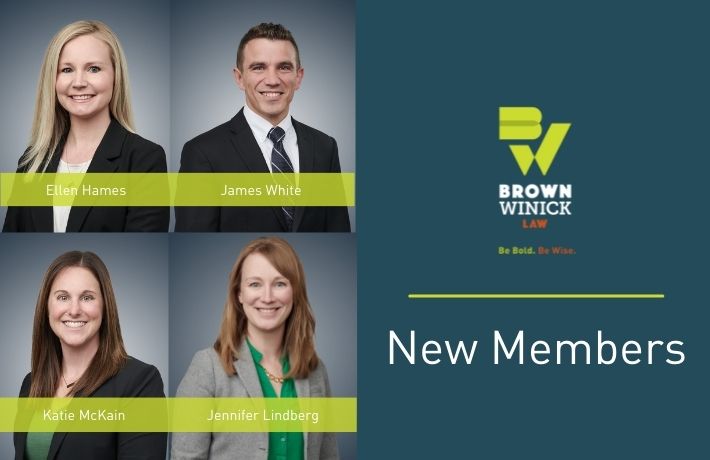 BrownWinick recently admitted four attorneys as members. We would like to congratulate Ellen Hames, James White, Katie McKain, and Jennifer Lindberg on this achievement.
Admission as members speaks to the hard work, skills and character of these individuals." said Chris Sackett, Managing Member at BrownWinick. "Each of these attorneys brings a unique skill-set to our team, and we value their contributions to our clients and the growth of our firm.
Ellen M. Hames joined BrownWinick as an associate attorney in 2016. Ellen's practice focuses on business transactional law, with an emphasis on mergers and acquisitions, venture capital, corporate organization/governance, and environmental law. She works with clients to start and expand their businesses as well as attends to legal matters involving review and negotiation of contracts and compliance with environmental regulations.
Jennifer E. Lindberg joined BrownWinick as an associate attorney in 2018. She has a litigation practice, representing clients in the health care and construction industries as well as clients with general commercial disputes. In addition to her courtroom experience, Jen uses the experience she gained working as an insurance regulator to assist clients in matters with government agencies. She also serves as co-Chair of the Firm's Charity Committee. Jen is licensed to practice in Iowa and Illinois, as well as federal courts in both states.
Katherine ("Katie") E. McKain joined BrownWinick as an associate attorney in 2017. Katie has a general practice, focusing on real estate, banking, bankruptcy, and corporate transactions. Katie has significant experience working on a variety of real estate transaction issues, including purchase and sale agreements, regulatory, and finance work. She has also worked on drafting and negotiating national vendor contracts, operating agreements, management agreements and leasing contracts. Katie has worked with large financial corporations to handle various real estate, banking and finance matters, along with title examinations, bankruptcy, and restructuring issues. She has also advised taxpayers regarding tax-deferred exchanges under Internal Revenue Code Section 1031 and coordinated closings to ensure compliance with the regulations.
James W. White joined BrownWinick as an associate attorney in 2016 and currently serves as Co-Chair of the Firm's Litigation Practice Group. James is a trial lawyer and litigator and has helped obtain successful results for his clients in a variety of cases, including employment law, agribusiness, corporate law, personal injury, and municipal law. James takes a commonsense approach to ensure his cases move forward while advancing his client's interests at every stage. He regularly practices before state and federal courts and has significant jury trial experience.