BrownWinick Law Firm and Attorneys Recognized in Chambers USA 2021 – High Net Worth Guide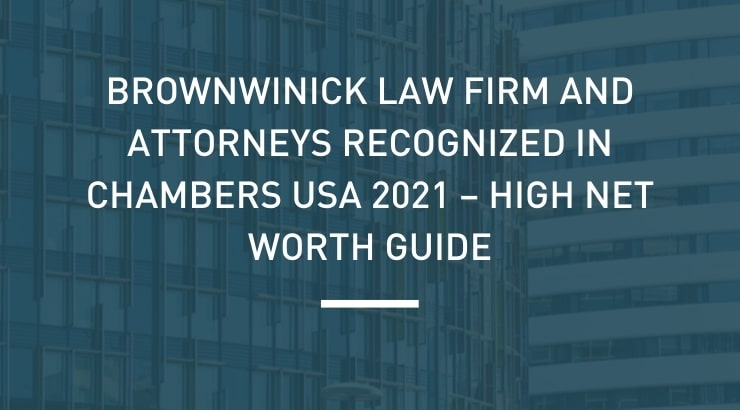 BrownWinick has recently been ranked as a "leading law firm" in the Chambers USA® 2021 – High Net Worth Guide in the area of Private Wealth Law. BrownWinick's estate planning team was ranked in Band 1, which is the highest rank Chambers awards. In ranking firms, Chambers assesses technical legal ability; client service; depth of the team; commercial vision and business understanding; diligence; & value for money.
Two attorneys from BrownWinick's Estate Planning Team were selected for inclusion in Chambers USA® 2021 as "notable practitioners" in the Private Wealth Law area:
Individual lawyers are ranked in their practice area(s) based on their legal knowledge and experience, their ability, their effectiveness, and their client service.
BrownWinick Estate Planning Practice:
BrownWinick's Estate Planning practice group assists clients with all aspects of trusts and estates, ranging from routine wills to complex estate plans. Our attorneys help you plan for the future by providing wise counsel on wealth transfer plans that provide for beneficiaries, minimize taxes, and provide support for charitable organizations. Each plan is holistically tailored to integrate individual, family, and business planning to help you achieve your goals.
We provide sophisticated solutions for the creation and implementation of planning tools such as revocable trusts, life insurance trusts, annual exclusion gifting programs, family limited partnerships, deferred compensation arrangements, retirement benefit planning, and charitable structures. Our experience also extends to planning for the wealth transition of a family business to the next generation. Learn more about BrownWinick's Estate Planning practice at brownwinick.com/services/estate-planning
About Chambers USA
Chambers USA ranks the leading lawyers and law firms across the USA. Our legal rankings are based on in-depth market analysis and independent research, conducted by our experienced team of researchers. Chambers and Partners rankings and research provides viewers with all the necessary information, statistics, and firm overviews, regardless of whether you are a client, in-house counsel or GC, when needed to make an informed decision when purchasing legal services.
The Chambers USA team works with law firms of all sizes, from boutique to global, during our research to ensure we cover all aspects of the US legal market for clients of all sizes and requirements to assist in their legal needs. Objective, independent, and research-based, the Chambers USA® 2021 – High Net Worth Guide recognizes the world's leading high net worth advisers.