Attorney James Pray is Elected to the American College of Environmental Lawyers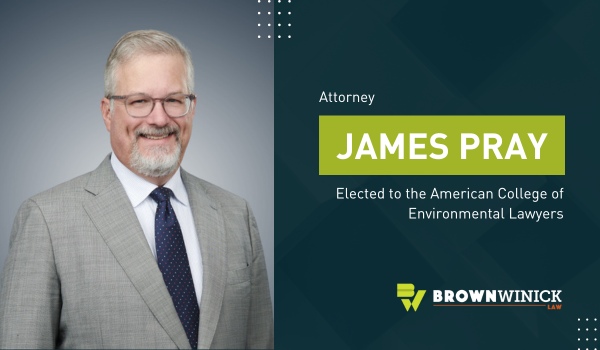 BrownWinick is proud to congratulate attorney James Pray for his recent election into the American College of Environmental Lawyers (ACOEL). The ACOEL recently welcomed 27 new Active Fellows to membership in the College this year.
Each individual in the ACOEL's Class of 2023 is an environmental lawyer selected for their distinguished experience, high standards of practice, and substantial contributions to the field of environmental law. As a group, the new Fellows hail from 18 states plus the District of Columbia, and have backgrounds in government service, public interest, academia, and private practice.
The ACOEL's President, Kenneth J. Warren of Warren Environmental Counsel, LLC, announced the new members with the following statement: "Our new Fellows have shown that they are among the very best practitioners of environmental law in the country. Collectively, they represent tremendous depth, breadth, and diversity of experience. We are pleased to welcome them to the College on the basis of their career achievements and thought leadership."
About James Pray
James Pray is a member attorney with BrownWinick. Most of his practice is focused on environmental and renewable energy projects such as wind, solar, and CO2. In the environmental field, James helps his clients navigate compliance with a diverse and highly complex number of laws and regulations. This includes offering advice regarding the air, wastewater, and solid waste permits that allow his industry clients to operate legally and profitably without harming the environment. During his career he has helped hundreds of businesses deal with environmental investigations and cleanups, had a hand in providing legal guidance to more than three dozen ethanol and biodiesel plants, and managed the legal due diligence for a dozen very large wind and solar projects.
James served several terms as Chair of the Iowa Bar Association's Environmental and Natural Resources Law Section and has served on numerous bar committees charged with helping to write administrative litigation rules. He has been selected for inclusion in Super Lawyers® for Environmental Law and Best Lawyers® for Environmental Law and has an AV Preeminent rating from Martindale-Hubbell. In 2013 and 2017 James was named Best Lawyers' Lawyer of the Year in Environmental Law.