Attorney Benjamin Flickinger Joins BrownWinick's Energy Practice Group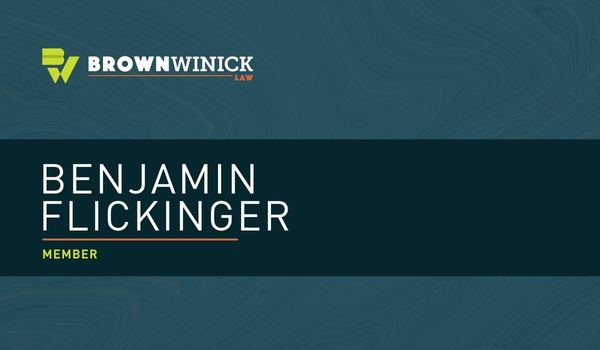 Attorney Benjamin Flickinger recently joined BrownWinick as the newest addition to the firm's Energy, Environmental and Natural Resources practice group.
"We are excited to welcome our newest attorney to the firm," the firm's Managing Partner, Sean Moore, said commenting on Benjamin's recent arrival. "We are confident that Benjamin's expertise and enthusiasm will be an invaluable asset to our team, and we look forward to his contributions to our ongoing success."
Learn more about Benjamin below.
Benjamin Flickinger is a member attorney at BrownWinick. Benjamin's practice focuses primarily on his extensive knowledge in the area of regulatory matters, but he is also well-versed in other areas, including, energy, utilities, employment and labor laws, professional licensing, and telecommunications.
With experience at the Iowa Utilities Board, the Iowa Civil Rights Commission, the Iowa Workforce Development and the Department of Administrative Services, Benjamin is well-equipped to advise clients on employment and human resources-related issues. He also has experience representing cases at both the state and federal levels in Iowa, and this gives Benjamin the capabilities to serve his clients with guidance both inside the courtroom and through transactional work at a desk.
Prior to joining BrownWinick as an associate, Benjamin served as an Assistant Attorney General in the Administrative and Licensing Division for the State of Iowa. Benjamin is a member of the Polk County, Story County, and Iowa State Bar Associations.