Understanding Hemp/CBD In Iowa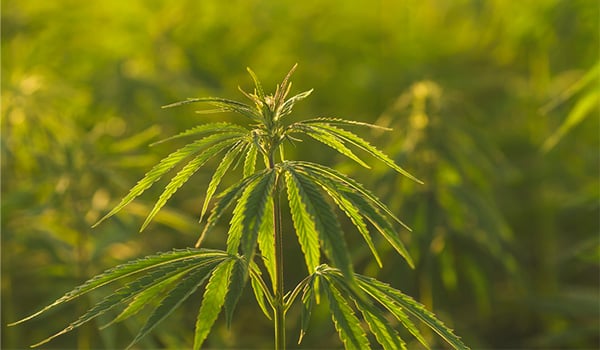 What is Hemp; What is CBD?
Hemp is a type of Cannabis Sativa plant, while CBD is a naturally occurring chemical found within the plant itself. CBD (cannabidiol) is usually produced using the hemp plant, rather than the marijuana plant, which is another type of Cannabis Sativa. Hemp plants contain more CBD and less THC (tetrahydrocannabinol), the psychoactive ingredient in marijuana that produces a "high." Marijuana plants, on the other hand, contain more than 0.3% THC and have relatively less CBD than hemp plants. The United States has a long and storied tradition of hemp production. Hemp was often utilized to make useful products such as rope, ship sails, and clothes. Pure CBD does not contain THC; however, for reasons discussed below, there can be a significant legal difference between pure CBD and CBD with certain levels of THC content.
Federal Law
The Agricultural Improvement Act of 2018 (also known as the 2018 Farm Bill) removed hemp from the definition of marijuana in the Controlled Substances Act. In the federal statute, hemp is defined as cannabis with less than 0.3% on a dry weight basis of delta-9-tetrahydrocannabinol (a kind of THC). This means that the statute removed hemp from the federal Schedule 1 controlled substances list. Another important change that the 2018 Farm Bill made was the introduction of a regulatory system that allows individual states to submit plans for the regulation of hemp production on the state level, which the USDA reviews for approval.
While the 2018 Farm Bill removed hemp from the definition of marijuana, this did not make all CBD products legal. Rather, legality turns on the amount of THC contained in the product. While CBD products that contain less than 0.3% THC are made legal by the Farm Bill, hemp-derived CBD products that contain more than 0.3% THC are still classified as marijuana — meaning they are still federally illegal, as they are considered a Schedule 1 controlled substance.
Iowa Law
In 2019, Governor Reynolds signed the Iowa Hemp Act (now codified in Section 204 of the Iowa Code). The law was subsequently approved by the USDA in 2020, pursuant to the regulatory scheme discussed above. As of 2020, hemp is not classified as marijuana so long as it contains a THC concentration of less than 0.3% on a dry weight basis. The Hemp Act also allows the Iowa Department of Agriculture and Land Stewardship to grant licenses to grow hemp in Iowa.
Hemp-derived CBD products (which contain less than 0.3% THC) are no longer controlled substances as a result of the Iowa Hemp Act. Hemp-derived CBD can only be added to products that are intended for human consumption to the extent consistent with applicable federal law. The Iowa Department of Inspections and Appeals regulates these "consumable hemp products." The Department is also responsible for issuing licenses to consumable hemp manufacturers and retailers. Consumable hemp is defined by the department as a liquid or solid hemp product intended to be introduced into the human body by ingestion or internal absorption. There are various forms of consumable hemp products, including dietary supplements, lotions, oils, and food. There are also a number of important restrictions on consumable hemp products.
The first and potentially most impactful restriction on consumable hemp products in Iowa is restrictions on hemp products intended to be consumed by inhalation. Products that are intended to be "introduced into the human body by any method of inhalation" are not viewed as consumable hemp products in Iowa and are prohibited under Iowa law. Violations are classified as a serious misdemeanor. Additionally, products that are marketed or intended to cure or treat diseases or affect functions of the human body are prohibited. Hemp products for consumption by animals are also prohibited.
Another facet of Iowa CBD regulation is the state's medical CBD program under the Medical Cannabidiol Act (codified a Section 124E of the Iowa Code). Iowa's Medical Cannabidiol Program allows patients with state-issued registration cards to obtain medical cannabidiol (mCBD) products to ease various ailments. mCBD is pharmaceutical-grade cannabidiol that contains less than 3.0% THC. This allows for significantly more THC content than the 0.3% limit for non-medical CBD. Patients must have a healthcare practitioner certify that they have a "qualifying debilitating medical condition." Iowa currently recognizes 14 different conditions which qualify for the program. The program allows access to mCBD in oral, topical, mobilizable suppository and vaporized forms.
Hemp and CBD regulations in Iowa sit at an interesting and challenging legal crossroads of state and federal law. Increases in state legalization along with increased scientific knowledge on the medical uses of products further complicate the legal landscape. Prudent knowledge and understanding of the statutory framework are essential components of entering the space, a knowledge and understanding that our BrownWinick attorneys can provide for those who are currently in or wish to enter, the hemp and CBD business.
Special thanks to Summer Clerk Marcos Danielson for his assistance in the writing and research of this blog.