Recent Changes to Iowa's Unemployment Law Provide Clarity to Employers, Aim to Stabilize Employment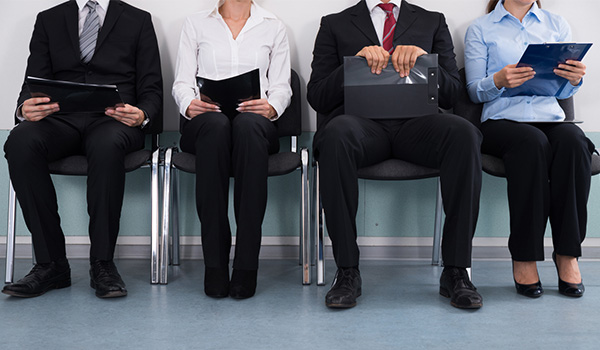 On July 1, 2022, House File 2355 took effect, implementing several improvements to Iowa's unemployment law. The Iowa legislature described these improvements as furthering an important public policy that supports stabilizing employment and reducing the negative consequences of unemployment. In this post, we discuss a few of the key unemployment law changes implemented in HF 2355.
Reduction in Maximum Benefits
HF 2355 reduces the maximum benefits payable to an unemployed individual from 26 weeks to 16 weeks. If an individual becomes unemployed due to their employer going out of business, their unemployment benefits are now capped at 26 weeks instead of 39 weeks.
In the past, employers who failed to respond to Iowa Workforce Development's request for information, or to participate in a fact-finding interview, could be responsible for overpayments even if the employer did not receive sufficient notice to participate. HF 2355 provides that if an employer's delay or failure to respond to an unemployment claim was due to insufficient notification by Iowa Workforce Development, the employer will not be charged for the overpayment.
Misconduct – Statutory Definition and Non-Exclusive Examples
HF 2355 provided greatly needed clarity around what constitutes "misconduct" sufficient to disqualify an individual from receiving unemployment benefits. The legislation codified the same definition of "misconduct" that previously appeared in Iowa Workforce Development's administrative rules, which is not a major change, but it went a step further by including a non-exclusive list of 14 examples of employee conduct that would constitute misconduct. The list includes the following conduct:
Material falsification of the individual's employment application.

Knowing violation of a reasonable uniformly enforced rule of the employer.

Intentional damage of an employer's property.

Consumption of alcohol, drugs, or an impairing substance on the employer's premises in violation of the employer's employment policies.

Reporting to work under the influence of alcohol, drugs, or an impairing substance on the employer's premises in violation of the employer's employment policies.

Conduct that endangers the personal safety of coworkers or the public.

Missing work because the employee is in jail.

Excessive unexcused tardiness or absenteeism.

Falsification of work-related reports, tasks, or jobs, that could result in liability or sanctions.

Failure to maintain necessary licenses, registrations, or certifications.

Libelous or slanderous conduct toward the employer or another employee.

Theft.

Intentional misrepresentation of time worked or work carried out that results in the individual receiving unearned wages or unearned benefits.
While the list is not meant to cover every possible act of misconduct, it provides employers with certainty around some of the most common (and damaging) examples of employee misconduct.
Shared Work Plan Improvements
HF 2355 makes three changes to shared work plans: (1) it adds a new condition for approval that disqualifies a reduction of hours based on a work week exceeding forty hours; (2) it requires Iowa Workforce Development to revoke its approval of a shared work plan if the employer lays off any employee while participating in the program; and (3) it makes part-time employees eligible for shared work program benefits, so long as they meet all other program requirements.
Accelerated Suitable Work Schedule
HF 2355 accelerates the existing suitable work wage schedule for unemployed individuals. Under Iowa's unemployment law, an individual is disqualified from unemployment benefits if Iowa Workforce Development finds the individual has failed, without good cause, to apply for available, suitable work or to accept suitable work when it is offered. Iowa Workforce Development considers many factors when determining whether certain work is "suitable" for an individual, including how the wages for the work compare to the wages the employee earned in their prior employment.
The law requires individuals to accept lower wages the longer they receive unemployment. For example, before HF 2355, during an employee's first five weeks of unemployment, a new job would not be considered "suitable" unless it paid as much (100%) of the individual's average weekly pay during that quarter of the individual's base period in which the individual's wages were highest. After five weeks, however, the percentage dropped to 75% of the individual's prior wages. HF 2355 accelerated the suitable work wage schedule as follows: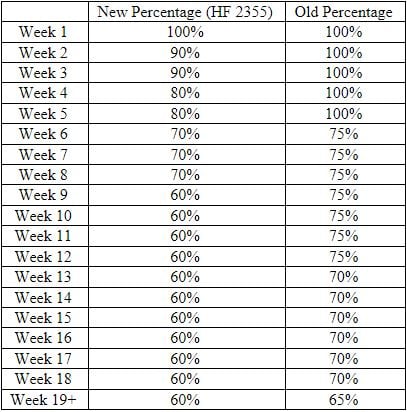 These changes reflect a considerably lower threshold in defining "suitable work" for unemployed individuals, which the legislature believes will encourage employees to return to work more promptly.
Direct Appeals to District Court
HF 2355 allows employees or employers to appeal administrative law judge decisions directly to the district court instead of initially appealing to the employment appeal board.
Special thanks to Emily Mertz-O'Brien for her assistance in the writing and research of this blog.
Questions?
If you have questions or want help with responding to an unemployment claim, unemployment appeal, or any other employment law matter, contact a member of BrownWinick's Employment & Labor practice.