Three BrownWinick Attorneys Get Promoted to Members of the Firm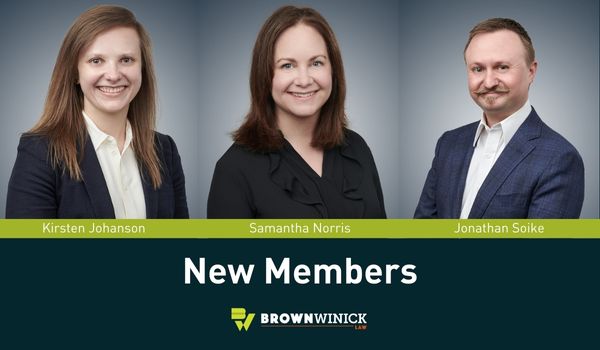 Recently, BrownWinick elevated three attorneys to the position of members at the firm. BrownWinick would like to congratulate Kirsten Johanson, Samantha Norris, and Jonathan Soike on this achievement and for their continued pursuit of client service.
"Each of these three was selected for admission as members because of their commitment to the firm," said Sean Moore, Managing Partner at BrownWinick. "Their hard work, determination, character, and skill make them each a valuable asset and we are excited to see them progress with our firm."
Kirsten Johanson primarily practices in the areas of estate planning, estate and trust administration, business succession, and taxation law and is a member of the firm's Estate Planning practice group. She assists all clients with the development of individualized estate plans to facilitate effective wealth transfer and tax planning objectives. Besides being licensed in Iowa, Kirsten is also licensed to practice in Minnesota. She is a member of the Polk County, Minnesota, and the Iowa State Bar Associations. She is also a member of Polk County Women Attorneys, the Des Moines Estate Planners, and the Heart of America Fellows Institute.
Samantha Norris currently serves as Co-Chair of the firm's Energy, Environment and Natural Resources practice group. She also leads the firm's Coralville office. Through serving as the General Counsel of the Iowa Utilities Board, as in-house counsel for a large investor-owned utility, and as outside counsel for various types of utilities and private developers, Sam has developed deep expertise on a wide range of energy and utility matters. Sam is a member of the Polk County, Johnson County, and Iowa State Bar Associations, the Energy Bar Association, and the University of Iowa Tippie College of Business Marketing Institute Advisory Board.
Jonathan Soike focuses his practice primarily on Intellectual Property and works within that practice group. Jonathan worked as a Patent Attorney for the National Aeronautics and Space Administration and for a Minnesota Intellectual Property Firm before that, making him licensed to practice in Minnesota as well. In addition to IP portfolio development, Jonathan assists companies with inbound and outbound licensing of patents and copyrights; software data rights auditing and compliance; and negotiation of IP provisions for government contracts/grants and cooperative agreements.