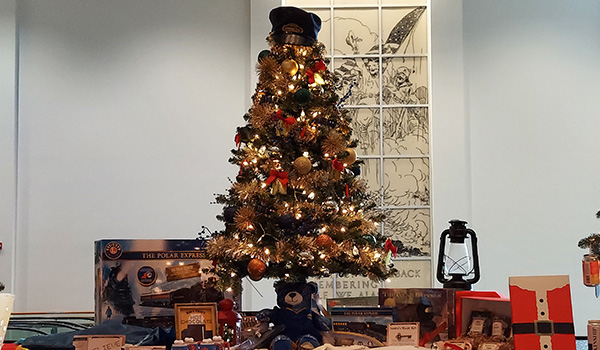 For the past several years BrownWinick has been a proud supporter of the Blank Children's Hospital Festival of Trees event, and this year was no different. For the November 26 – November 28 event, BrownWinick participated by decorating a tree with toys and other items as well as decorating a wreath to be auctioned off at the Festival, with all proceeds going directly to benefit Blank Children's Hospital. The theme for both our tree and wreath was Polar Express.
Our tree was auctioned off for $837 and our wreath was auctioned off for $107. So, our total contributions to the event equaled $944. We are proud to be a part of this event and give back to our community. BrownWinick attorneys and professional staff believe that through involvement and leadership in local charities and activities, we can help improve the quality of life and strengthen our communities by donating our time and talents to events such as this. To learn more about BrownWinick's community engagement, click here.
What is the Festival of Trees?
Festival of Trees and Lights is a public event that is the main fundraiser for Blank Children's Hospital. This annual event is the largest fundraiser for Blank Children's Hospital and is a central Iowa tradition to kick off the holiday season. The event features beautifully decorated trees, entertainment, children's activities, food, shopping and more! To learn more, visit unitypoint.org/blankchildrens/festival-of-trees.
About Blank Children's Hospital
Blank Children's Hospital, a service of UnityPoint Health - Des Moines, is completely dedicated to meeting the unique health care needs of children. Blank Children's is a 108-bed environment that embraces and encourages families to be a part of their child's healing and recovery. Everything from equipment to décor is designed specifically for children. To learn more about them and how you can get involved to support them, visit this link https://www.unitypoint.org/blankchildrens/default.aspx.