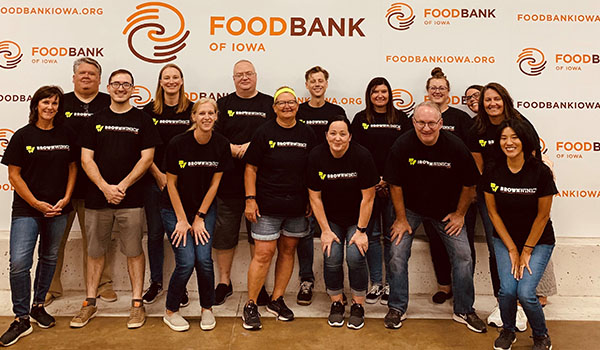 Learn more about these organizations and how we assisted them below!
The Animal Rescue League serves people and pets from across the state of Iowa through its programs, which include pet adoption, humane education, pet behavior training, spay/neuter, animal cruelty intervention, and much more.
Here, our volunteers were split into several groups to work on several different projects at the shelter. One group worked to spread new mulch onto the different walking trails along the property. Another group cleaned dirty animal cages and horse stalls. The final groups did dishes, cleaning dirty bowls, scoops, and other items, and a small group got to work in the store and assist with the needs they had there.
Habitat for Humanity seeks to bring people together to build homes, communities, and hope. They are founded on the conviction that every person should have a decent, safe, and affordable place to live.
Our volunteers participated in Habitat for Humanity's "Rock the Block" program. This program works with residents with needed repair, maintenance, weatherization, safety, accessibility, and beautification of homes. Here, our volunteers were split into two groups and worked on two different houses. One group worked together to paint trim on a house. Another group sided a house on the south side of Des Moines. They had someone cutting the pieces and others nailing them in.
The Food Bank of Iowa is committed to creating a hunger-free Iowa. They provide food that helps Iowa children, families, seniors and veterans lead full and active lives, strengthening the communities where they live.
At the Food Bank, our volunteers sorted potatoes by choosing the potatoes that were soft, mushy, and moldy, and then placed them in a bin for farmers to compost. The good potatoes were then put in bags and then weighed. The bags were to weigh between 6.5 and 7.5 pounds, and each container was to hold 100 bags of potatoes. This group completed putting together 474 bags of good potatoes!
The Ronald McDonald House Charities of Central Iowa provides a home-away-from-home for families traveling to Des Moines to seek medical care for their children. They have two houses, one inside MercyOne Children's Hospital and one near Blank Children's Hospital, so families are only steps away from their critically ill children.
The Ronald McDonald House volunteers all worked together to cook a meal that would later be provided for around 50 people located at the two different house locations. Our volunteer group decided to make chicken pot pie (casserole style), mashed potatoes, snickers apple salad, and Carmelita bars.
The Ashcraft Library Project supports children experiencing adversity by providing free books and programs that promote literacy.
Our volunteers who worked with the Ashcraft Library Project spent their time organizing and sorting a number of books to be sent out to different locations.
The Boys and Girls Club provides young people with opportunities to engage in programs that help them achieve academic success, take charge of their well-being by building healthy habits that will stick with them throughout their lives, and foster the skills they need to become leaders in their communities.
Those who volunteered here made about 80 meal bags and backpacks at the administrative office of the Boys and Girls club. They then split up into 3 groups of two, and each group headed to a different Boys and Girls Club facility. Each group took some meal bags/backpacks along with frozen or refrigerated food to each facility's pantry. The food was then stored and organized in their pantries.
All these organizations look for volunteers to help them with a number of different tasks throughout the year. If you are interested in assisting any of these organizations, please visit their website to learn more about how to get involved or volunteer.
Our attorneys and professional staff believe that through involvement and leadership in the community and with local charities and activities, we can help improve the quality of life and strengthen our communities. Our attorneys and staff donate their time and talents by serving on non-profit boards and committees, providing pro-bono legal work, and by volunteering for numerous activities.
Learn more about our BrownWinick's community engagement here.