2022 Iowa Legislative Session - Week 10 Summary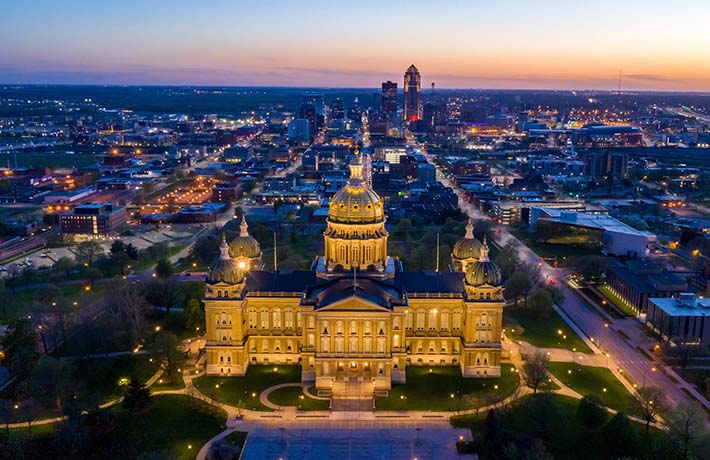 The second funnel deadline has come and gone. Bills that didn't pass all the way through the first Chamber and the Committee in the other Chamber are DEAD for the session. Although, some bills come back as amendments to other bills - so we have to remain vigilant. Bills that have been referred to Ways and Means and Appropriations are not subject to funnel deadlines and are eligible to move for the rest of the session. Several bills have been placed on the Unfinished Business Calendar - this also saves a bill from being declared dead. During week eleven only House Files on the Senate Calendar or Senate Files on the House Calendar and bills that have been placed on Unfinished Business are eligible for debate.
House State Government Chair Bobby Kaufmann (R-Wilton) attached an amendment to a "home barbering bill" that would block the use of eminent domain for pipeline companies. The one-year moratorium comes at a time when three companies have announced their intentions to build carbon sequestration pipelines across the state: Summit Carbon Solutions, Navigator, and Wolf Carbon Solutions. Kaufmann said he is not anti-pipeline, but he feels it is important to protect landowners until the Legislature resumes in 2023. Speaker Pat Grassley (R-New Hartford) agreed with Kaufmann that it is important that landowners know the Legislature is monitoring the situation. By imposing the yearlong moratorium, Grassley stated, "We . . . want to give them (landowners) some certainty that if eminent domain were ever to be on the table moving forward, the Legislature would be in session and be able to weigh in and try to avoid a situation where there could be mass condemnation."
The amended bill (SF 2022), which unanimously passed the Senate on February 28th as originally drafted, cleared Wednesday's House State Government Committee with Democrats voting in opposition. Ranking Member Mary Mascher (D-Iowa City) stated they would have preferred the issue follow the traditional legislative process instead of being amended to an unrelated bill. If the proposal clears the House, it would be sent back to the Senate to accept the change.
Elections. In election news, Democratic gubernatorial candidate Deidre DeJear was one of many candidates to make Friday's filing deadline for state and legislative offices. And now the election landscape is set, or at least for now. Candidates can be added via nominating conventions later in the election cycle. Normally only half of the Senate's 50 seats are up for reelection, but due to redistricting all of the odd-numbered seats along with nine additional even-numbered seats will be on the ballot in November for a total of 34 Senate seats. Successful candidates in these nine districts will have to run again in two years. Republicans currently maintain a 32-18 majority. All one hundred House seats will be on the November ballot where Republicans currently maintain a 60-40 majority.
Senate Republicans. Tim Goodwin (Burlington) and Craig Williams (Manning) will not be running again. Craig Johnson (Independence) is running for an Iowa House seat.
Senate Democrats. Several long-time Democratic Senators will not be seeking reelection: Joe Bolkcom (Iowa City); Rob Hogg (Cedar Rapids); Jim Lykam (Davenport); and Amanda Ragan (Mason City). Liz Mathis (Hiawatha) is running for the U.S. House of Representatives.
Two pairs of current Senators are running against each other in the general election: Jake Chapman (R-Adel) v. Sarah Trone Garriott (D-Windsor Heights); and Dawn Driscoll (R-Williamsburg) v. Kevin Kinney (D-Oxford).
House Republicans. Eight members will not be running for reelection in November: Terry Baxter (Garner); Holly Brink (Oskaloosa); Cecil Dolecheck (Mount Ayr); David Kerr (Morning Sun); Jarad Klein (Keota); Ross Paustian (Walcott); Cherielynn Westrich (Ottumwa); and Gary Worthan (Storm Lake).
Four House Republicans are running for the Iowa Senate: Mike Bousselot (Ankeny); Jon Jacobsen (Council Bluffs); Charlie McClintock (Alburnett); and Sandy Salmon (Janesville).
Three pairs of House Republicans are matched up in a primary battle: David Maxwell (Gibson) v. Dean Fisher (Montour); Lee Hein (Monticello) v. Steve Bradley (Cascade); Joe Mitchell (Mount Pleasant) v. Jeff Shipley (Birmingham).
House Democrats. Eleven members will not be seeking reelection: Marti Anderson, Bruce Hunter, and Jo Oldson (all of Des Moines); Chris Hall (Sioux City); Mary Mascher (Iowa City); Charlie McConkey (Council Bluffs); Todd Prichard (Charles City); Ras Smith (Waterloo); Kristin Sunde (West Des Moines); Dave Williams (Cedar Falls); and Mary Wolfe (Clinton).
Five House Democrats are seeking other offices: Christina Bohannan (Iowa City) is running for U.S. House of Representatives; Kirsten Running-Marquardt (Cedar Rapids) is running for the Linn County Board of Supervisors; Liz Bennett and Molly Donahue (both of Cedar Rapids) are running for the Iowa Senate, as is Cindy Winckler (Davenport).
In the Know
Senate lawmakers adopted a resolution Wednesday condemning the Russian invasion of Ukraine and declared the Iowa Senate's support of Ukraine's efforts to remain an independent and autonomous nation. Supported by both Democratic and Republican members, Senate Resolution 105 also states that the Senate stands clearly against Russia's flagrant aggression, authoritarianism, and attack on democracy. Further, the Chamber supports the right of all persons to live in a free society, the right to self-determination, and the right to live without fear of attack, foreign or domestic, anywhere in the world. The House adopted a similar resolution (House Resolution 108) on March 8th.
In related news, State Treasurer Michael Fitzgerald (D) recently announced his support for divestment of public funds from Russian-Domiciled Companies. "I condemn Russia's unprovoked and unjustified invasion of Ukraine, he stated. "Therefore, I am joining other state treasurers so we can speak in a united voice to call for the divestment of public funds as soon as possible."
Senator Roby Smith (R), who is running to be the GOP challenger, also released a statement earlier this month calling for divestment: "In light of Vladimir Putin's abhorrent and completely unprovoked attack on the sovereign nation of Ukraine, the State of Iowa needs to strategically divest of any Russian securities it may hold and prevent any future investment with Iowa's public funds.
BrownWinick Government Relations
To view additional summaries from the 2022 Iowa Legislative session or to learn more about BrownWinick's Government Relations Team, visit our Lobbying and Public Policy team page.