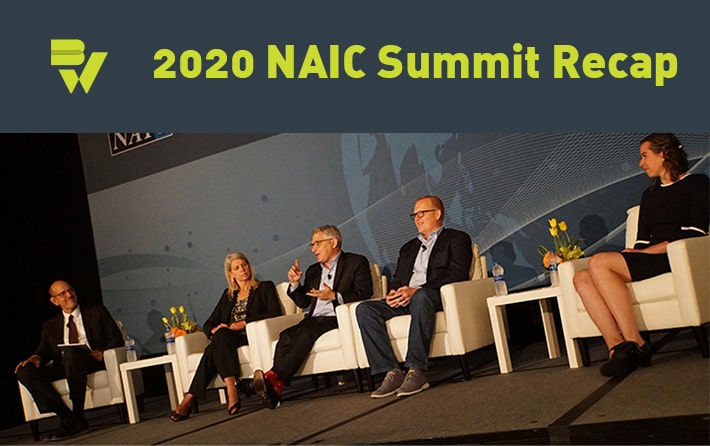 The National Association of Insurance Commissioners (NAIC) hosted their 2020 Virtual Insurance Summit in a new two-week format during September 8-10 & 15-17, 2020. The Insurance Summit is hosted by NAIC and the National Insurance Producer Registry (NIPR). This premier event brings together innovators and regulators to explore the future of insurance regulation.
Building off the recently adopted Principals on Artificial Intelligence, two regulators drilled into use of data and algorithms in accelerated underwriting and how to perform a market conduct examination. The industry is expected to know what data is used in the models and test the models to identify potential discrimination.
There were no major revelations from the Annuity Suitability & Best Interest Working Group.
The regulators are expanding the market conduct annual statement (MCAS) to include use of third-party administrators and lawsuits.
Group Capital Calculation is proceeding but on a tight timeline.
Summit Highlights:
Annuity Suitability & Best Interest: Commissioner Doug Ommen (Iowa); Jason Berkowitz, Chief Legal & Regulatory Affairs Officer, Insured Retirement Institute (IRI) and Birny Birnbaum, Executive Director, Center for Economic Justice (CEJ)

NAIC Working Group issued FAQs awaiting comments by 10/2, do not provide additional clarity to conflict between proposed DOL rule and Model regarding what is a fiduciary
Only IA and AZ have adopted, eff. 1/1/21; RI expected soon; states with proposals and discussions: AL, AR, DE, ID, KS, KY, MA, MI, ND, NV, OH, TN & TX
Continued disagreement on enforceability between industry and CEJ

Data, Algorithms & Market Conduct Examinations: Director Bruce Ramge (NE) and Kurt Swan, Market Conduct Exams Life, Insurance, Principal Examiner CT Insurance Department

Two presentations regarding the challenges associated with examining companies' use of data and algorithms in underwriting
Regulators have the expectation that Company know/understand:

The source of the data

Was it obtained legally?
Is it accurate?
Will its usage be viewed by consumers as invasive or controversial?
What type of third-party data is being used?

The algorithmic model

How was the model developed?
Are there valid outcomes and truly predictive?
Is it tested for unfair and discriminatory results?
Is it evaluated for inherent bias?
Are any of the individual components unfairly discriminatory?
Is the model truly predictive?
Is a score generated?

Regulators want:

Transparency
Consumers treated fairly
Comprehensive testing of the models used in accelerated underwriting

Regulators are not data scientists and will have contract with consultants (paid by the carrier)
Market Regulation Handbook is being updated to include the Principles on Artificial Intelligence and examinations will change based on the changes in underwriting
Expect a Model to be proposed regulating Big Data and Accelerated Underwriting

Market Conduct Annual Statement (MCAS): Crystal Brown, NAIC, Rebecca Rebholz, Director, Bureau of Market Regulation, Wisconsin OIC, October Nickel, Senior Market Analyst, Idaho DOI and Teresa Cooper, Market Analyst, NAIC

49 states now participate in MCAS
Nine separate lines of business
Changes for 2021 for life and annuity:

New surrender data based on time policy in force
Identification of third-party administrators and functions performed
Lawsuits including disposition
Focus on index products not included in fixed numbers
External replacements-unaffiliated v. affiliated
Scorecards updated to be user-friendly

Group Capital Calculation (GCC) Update: Dan Daveline, Lou Felice, NAIC

Changing the view of risk-based capital (RBC) legal entity insurers v. capital at the group level
Being developed internationally and the U.S. Federal Reserve
Leveraging the aggregation method and comparing to expected capital
Result is a revised Holding Company Act & Regulation that includes an attestation in GCC template and instructions
Requires filing of the GCC for all ultimate controlling party with some exemptions
Adoption revised law by 9/22/22 due to covered agreement with the European Union
Lots of analysis and work to be completed to meet this timeline
About the NAIC: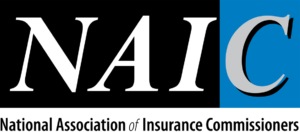 The (NAIC) is the U.S. standard-setting and regulatory support organization created and governed by the chief insurance regulators from the 50 states, the District of Columbia and five U.S. territories. Through the NAIC, state insurance regulators establish standards and best practices, conduct peer review, and coordinate their regulatory oversight. NAIC staff supports these efforts and represents the collective views of state regulators domestically and internationally. NAIC members, together with the central resources of the NAIC, form the national system of state-based insurance regulation in the U.S.