BrownWinick Hosts the New Carbon Economy Summit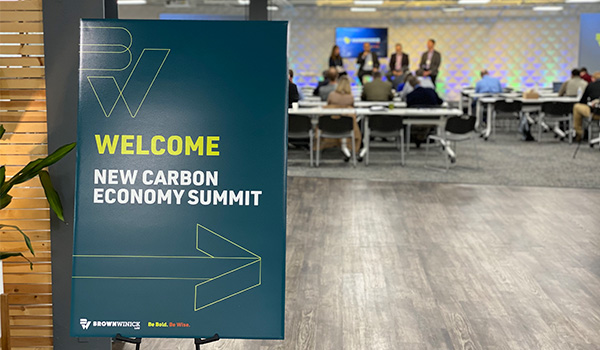 BrownWinick recently hosted the New Carbon Economy Summit in West Des Moines, IA. The summit brought attendees from across Midwest and beyond to learn about emerging innovative technologies, practices, and solutions that promote carbon sequestration, capture, and or transfer to address our climate challenges.
The discussions covered a spectrum of topics including key innovations & approaches to legal and financial issues and considerations. The summit featured guest speakers including the Iowa Secretary of Agriculture, Mike Naig, Dr. Robert Brown, Director of the Bioeconomy Institute and Professor of Mechanical Engineering, and many others from varying industries involved in this space.
If you couldn't attend, we have provided video recordings of each session below for your viewing
pleasure.
Opening Remarks with Iowa Secretary of Agriculture, Mike Naig
Session One – Key Innovations & Approaches in the New
Carbon Economy
Facilitator: Jessica Hyland, Executive Director - Iowa Biotechnology Association
Panelists:
Jared Burma, CEO - Bristola, LLC

Elizabeth Burns-Thompson, Vice President, Government and Public Affairs - Navigator CO2

Mark LaCroix, P.E., Mechanical Engineer - Denovo Construction Solutions

Dr. Martin Gross, President - Gross-Wen Technologies
KEYNOTE – Carbon Removal, more than just an academic exercise
Presenter: Dr. Robert Brown, Director of the Bioeconomy Institute and Professor of Mechanical Engineering - Iowa State University
Session two –
Agricultural Soil Carbon Solutions
Facilitator: Amy Johnson, Attorney -BrownWinick Law Firm
Panelists:
Mike Fisher, Vice President - Impact7G

Mitchell Hora, CEO - Continuum Ag

Adam Kiel, Executive Vice President - Soil and Water Outcomes Fund
Session three –
Legal & Financial Issues and Considerations in the New Carbon Economy
Facilitator: Diana Wright, Startup Community Builder - Greater Des Moines Partnership
Panelists:
Kyle Woiwood, Partner - UHY
The New Carbon Economy was hosted by BrownWinick and supported by the following sponsors: