Four New Attorneys Join BrownWinick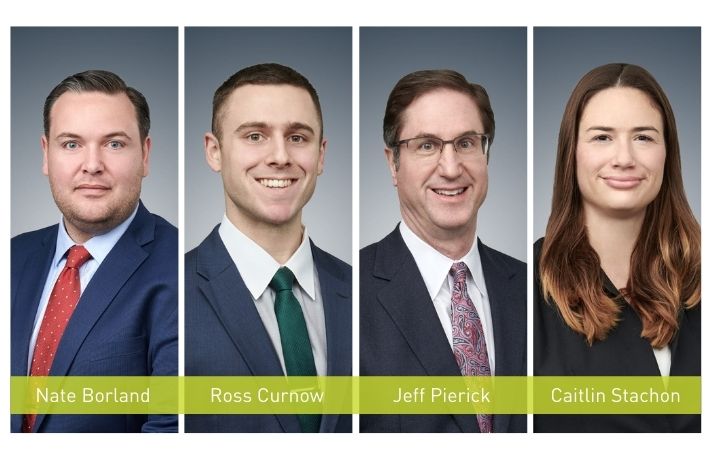 BrownWinick is excited to announce the addition of Nate Borland, Ross Curnow, Jeff Pierick and Caitlin Stachon to the BrownWinick Team.
Nate Borland has joined the Employment law team with a primary area of expertise is in labor and employment law, including counseling, investigations, and trial practice. Nate graduated from Upper Iowa University in 2009, receiving his B.S. in Public Administration with a law enforcement emphasis. He received his J.D., with high honors, from Drake University Law School in 2013. Since 2019, Nate has been recognized by Best Lawyers for his employment litigation practice.
Ross L. Curnow brings a business transactional practice to the firm where he specializes in residential and commercial real estate, as well as regulatory compliance in Iowa's casino and gaming industry. Ross graduated with a B.A., magna cum laude, from the University of Northern Iowa in 2014 and received his J.D., with honors, from Drake University Law School in 2017 with a Business Law Certificate.
Jeff Pierick joins the Health law team and will practice primarily in the health law area. Jeff is a Certified Health Insurance Executive (CHIE) and is Certified in Healthcare Compliance (CHC) and most recently worked for Common Ground Healthcare Cooperative before joining BrownWinick. Jeff graduated from Buena Vista University receiving his B.A., summa cum laude, in Political Science/Economics, with Minors in English and History. He received his J.D., with high distinction, Order of the Coif, from The University of Iowa College of Law. Jeff brings more than 30 years of legal experience to BrownWinick.
Caitlin L. Stachon has joined the Litigation team where she will assist clients with employment litigation, trust and estate litigation, and she will practice in the areas of securities and finance. Caitlin is a graduate of Columbia College where she received her undergrad degree in Psychology. She also earned her J.D. from the New York University School of Law in 2017. Caitlin is licensed to practice law in Iowa, New York, and New Jersey. Before joining BrownWinick, Caitlin practiced at a large international firm based in New York.