BrownWinick Provides Valentines for Area Seniors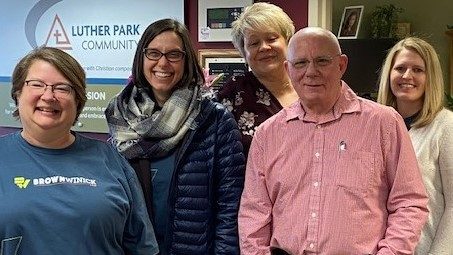 BrownWinick's Charity Committee assembled 120 pink and red carnations with handwritten valentine cards to share with the residents of the Trinity Center at Luther Park in Des Moines last month. On February 14, BrownWinick attorneys and staff delivered the valentines to the residents. Volunteers had the opportunity to interact with residents and brighten their day when delivering the valentines.
Trinity Center at Luther Park, which is located on Hull Avenue in Des Moines, provides long term and skilled care, specializing in Alzheimer's and dementia care. BrownWinick provides legal services to Luther Park as well as numerous other long-term care facilities in the state.
A special thank you to Beth Hick, Samantha Garner and Tony Zanoni (as pictured, from left to right) for delivering the valentines and helping make the day special for many residents at Trinity Center.
BrownWinick Community Involvement
Our attorneys and professional staff believe that through involvement and leadership in local charities and activities, we can help improve the quality of life and strengthen our communities.
They donate their time and talents by serving on non-profit boards and committees, by providing pro-bono legal work, and by volunteering for numerous activities. In addition, the firm, its attorneys and professional staff provide monetary and other in-kind donations to numerous organizations.
To learn more about BrownWinick's community involvement, click here.