BrownWinick Grows Corporate and Litigation Practices with Additions of Greer Wellstead & Chelsey Knapp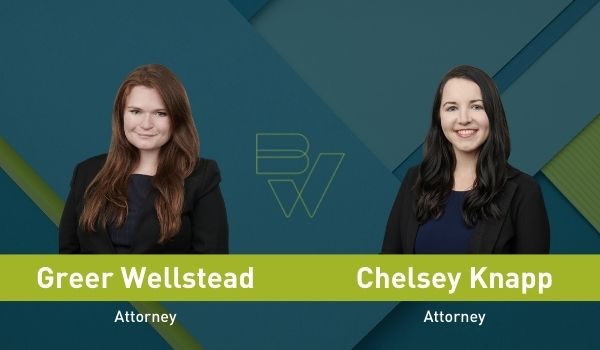 BrownWinick is excited to announce the addition of attorneys Greer Wellstead and Chelsey Knapp to the firm. Greer joins our corporate practice and Chelsey will focus primarily on litigation.
"We're thrilled to have Greer and Chelsey at BrownWinick and excited to see the impact they are already having on the firm and for our clients" said Chris Sackett, managing partner of BrownWinick Law Firm.
Chelsey Knapp
Prior to joining BrownWinick, Chelsey spent 18 months as a federal law clerk to the Honorable John A. Jarvey in the U.S. District Court for the Southern District of Iowa. As a federal law clerk, she was involved in a broad range of litigation matters, conducting extensive legal research, and writing court orders on motions. Chelsey received her J.D., with highest distinction, from Drake University Law School in 2020.
Greer Wellstead
Greer is a member of our Business and Corporate Law practice group and was recently sworn in to practice law in Iowa. Greer's practice is primarily focused on corporate governance and SEC reporting matters, along with understanding and providing advice regarding best practices for publicly traded companies. Prior to joining BrownWinick, Greer practiced corporate and securities law in New York, where she is also licensed. Greer received her J.D. from the University of Pennsylvania.