2023 Iowa Legislative Session - Week 1 Summary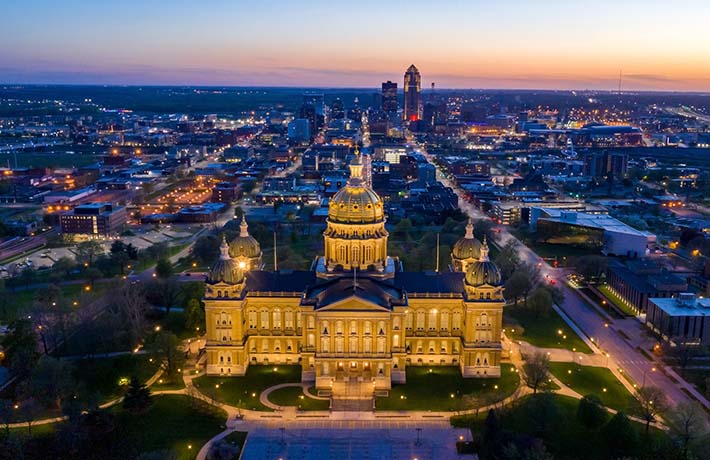 Iowa lawmakers returned to Des Moines this week to convene the first legislative session of the 90th General Assembly. As Republicans enter the seventh year of a 'GOP trifecta' they will continue to drive the state's policy agenda for the 2023 session. On Monday, leaders from both parties in the Senate and House welcomed members to the Capitol and outlined priorities with their opening speeches.
In his opening remarks, Senate Majority Leader Jack Whitver (R-Ankeny) reflected on the first super-majority in the Senate in half a century. He stated that Republicans' focus on tax relief for working families and small business and remarked on how "Iowans pay some of the highest property taxes in the county". "Senate Republicans are up to the challenge on the best long-term strategy for Iowa taxpayers," said Whitver. In addition to tax reform, Whitver stressed the importance of continued improvement to education within the state, as well as the need to continue to get more Iowans into the workforce. Senate Minority Leader Zach Wahls (D-Coralville) identified making Iowa a destination state as a top priority.
Across the chamber, Speaker Pat Grassley (R-New Hartford) said that new freshman legislators can expect to "be hitting the ground running right from the start." The Speaker stated that Iowa can expect Republicans to continue to act responsibly with the budget. The Speaker also stated that the new Education Reform Committee will look at broader reforms than just approving school choice. "…[W]e can provide greater choice to Iowa parents AND keep our public school system strong," said Grassley. House Minority Leader, Jennifer Konfrst (D-Windsor Heights), stated Iowans' priorities are to "lower their costs, invest in public schools, legalize marijuana, and protect reproductive freedom."
On Tuesday night, Governor Reynolds gave her sixth condition of the state address before a joint session of the Iowa Legislature. In her address, Reynolds focused on improving education within the state. Governor Reynolds introduced her comprehensive education reform package which includes the creation of an education savings account to enable parents to have more ability to choose the school their children attend. "…[E]very parent should have a choice of where to send their child – and that choice shouldn't be limited to families who can afford it," said Reynolds. The plan would provide $7,598 from state funds to be used by students to attend an accredited private school. "My education plan starts with school choice, but it doesn't end there," continued Reynolds. The Governor announced that her education plan will also include the Department of Education providing tailored support to schools by providing resources and knowledge needed by teachers and administrators. This effort will focus on improving early childhood literacy through specialized training to teachers on the science of reading, offering schools with curriculum, and offering experts to observe classroom instruction and provide recommendations schools can use to formulate an action plan. "Improving our education system isn't just about providing more resources; sometimes it's about getting out of the way," said Reynolds.
Governor Reynolds also stated that she will continue to protect the unborn and fight abortion. In addition, she asked the legislature to expand the MOMS Program as well as add two additional Centers of Excellence that work to connect rural patients with OBGYN services.
In response to the opioid crisis, Governor Reynolds called on the legislature to increase penalties for the manufacture and distribution of fentanyl. She pushed for making life-saving treatments that reverse the effects of an overdose, like naloxone, more readily available.
Governor Reynolds concluded her address with discussing the streamlining of state government. The Governor proposed to reduce the number of cabinet agencies in Iowa from 37 to 16. As part of this reorganization, the Governor signed an executive order which placed a moratorium on new rulemaking and has directed state agencies to assess each of their administrative rules to meet her goal of enhancing government efficiency. Reynolds stated, "I look forward to signing it into law and aligning state government with the only reason it exists – serving Iowans."
In the Know:
Executive Order regarding Administrative Rules: The Governor signed Executive Order Number 10 on Tuesday, January 10, 2023, which initiates a comprehensive review of the Iowa Administrative Code. The Executive Order states that each rule chapter shall be reviewed by the agency, board, or commission that promulgated the rule and applies to all departments, agencies, boards, or commissions that have promulgated rules contained within the Iowa Administrative Code. The review of the Administrative Code will be staggered across agencies, with the schedule outlining the agencies' review to be released on the Governor's website no later than March 1, 2023.
As part of this comprehensive review, each agency, board, or commission must perform a retrospective analysis of each existing administrative rule which must include a cost-benefit analysis to determine if the results intended to be reached by the rule are being accomplished. The Governor's Executive Order provides guidance instructing agencies, boards, or commissions to remove obsolete, outdated, inconsistent, incompatible, redundant, or unnecessary language. Pursuant to the Executive Order, each agency must submit a rule report to the Administrative Rules Coordinator that contains the agency's retrospective analysis of the rule chapter, a list of rules the agency proposes to repeal, and a list of rules the agency proposes to re-promulgate. As part of this process, the agency is also required to publish a notice of intended action and hold at least two public hearings on the agency's retrospective analysis.
In addition to the comprehensive review, the Executive Order also establishes a moratorium on rulemaking from February 1, 2023, through the agency's review date, as established in the schedule. The Executive Order does provide narrow exceptions to this moratorium, including for emergency rules.
The full Executive Order can be found HERE.
BrownWinick Government Relations
To view additional summaries from the 2023 Iowa Legislative Session or to learn more about BrownWinick's Government Relations Team, visit our Lobbying and Public Policy team page.