2022 Iowa Legislative Session - Week 9 Summary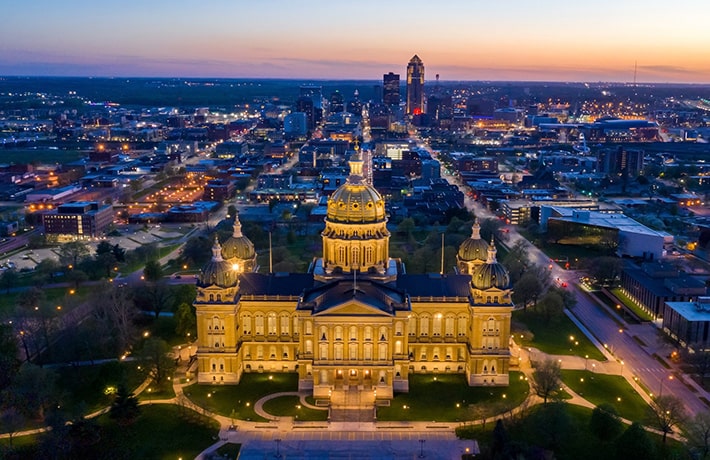 Vowing to keep Iowa a state "where you can live your life freely" Governor Reynolds announced her reelection campaign on Wednesday at the State Fairgrounds. Reynolds is Iowa's first female governor, assuming the role in 2017 and winning her first election in 2018. Reynolds' only announced Democratic opponent is Deidre De Jear. Recent polling conducted by Selzer & Company showed Reynolds with an 8-point lead among likely midterm election voters over DeJear (51-43).
The Revenue Estimating Conference (REC) met on Thursday to estimate state revenues for fiscal year 2023. The REC is established in Iowa Code Section 8.22A and it meets at least three times per year, including one time in March. The legislature is required to use the lower of the March or December estimates to form the basis for its upcoming appropriations process. The REC consists of three members: the governor or the governor's designee, the director of the legislative services agency or the director's designee, and a third member agreed to by the other two. Currently the members are Kraig Paulsen, Acting Director of the Department of Management, Holly Lyons, Director of the Legislative Fiscal Agency and David Underwood.
Thursday's REC number for FY22 is higher than the December estimate by $110.5 million. Given the December estimate and code requirements, the Legislature is required to use the December estimate for its upcoming budget.
In a sign the 2022 session is progressing to a close, the House moved several budget bills out of subcommittee on Thursday. First moved were the Judicial and Justice System budgets, Department of Agriculture and Land Stewardship, Department of Natural Resources, and Department of Transportation budgets. Word is that next week's activity on the Hill will be all about the budget!
This weekend is daylight savings time - be sure to set your clocks forward on Sunday! However, we would no longer need to adjust to time changes if HF 2331 were to become law. This proposal would establish daylight savings time as Iowa's official time. Twenty other states have passed similar laws. The bill's floor manager, Rep. Mike Sexton (R-Rockwell City), believes that the annual time changes create, "significant public health and safety risks, including increased risk of adverse cardiovascular events, mood disorder, motor vehicle crashes."
In the Know
The events in Ukraine have been on the mind of all of us and manifested at the Iowa Legislature in House Resolution 108 signed by both Republican and Democratic House members. HR 108 states that the House of Representatives calls for the end of hostilities in Ukraine and respect for the independence of the people of Ukraine; condemns in the strongest possible terms Russia's unnecessary, violent, and immoral invasion of Ukraine and attacks on the Ukrainian people; and commends the courage and resolve shown by the Ukrainian people in their pursuit of sovereignty and democracy, and pays tribute to the many men and women who gave their lives in pursuit of a free and democratic Ukraine.
More interesting filings for this next election cycle:
Current Senate Majority Leader Jack Whitver filed papers Monday to seek reelection in newly drawn Senate District 23. The new District includes parts of rural Polk County and rural Dallas County. Whitver won his seat in a 2011 special election and again in 2014 and 2018 and was elected Majority Leader in 2018.

Former State Senator Mark Chelgren filed papers to run in State House District #26. Chelgren, an entrepreneur, served two terms in the State Senate, elected in 2010 and again in 2014.

Secretary of State Paul Pate announced he would be running for a fourth term in his current position. Pate was

first elected as Secretary of State in 1994, but served only one term. Prior to that time, he was elected to the Iowa Senate and served from 1988-2002. He was elected Mayor of Cedar Rapids and served from 2002 to 2006. Pate was elected to his second term as Secretary of State in 2014 and reelected to his third term in 2018.
BrownWinick Government Relations:
To view additional summaries from the 2022 Iowa Legislative session or to learn more about BrownWinick's Government Relations Team, visit our Lobbying and Public Policy team page.