2022 Iowa Legislative Session - Week 7 Summary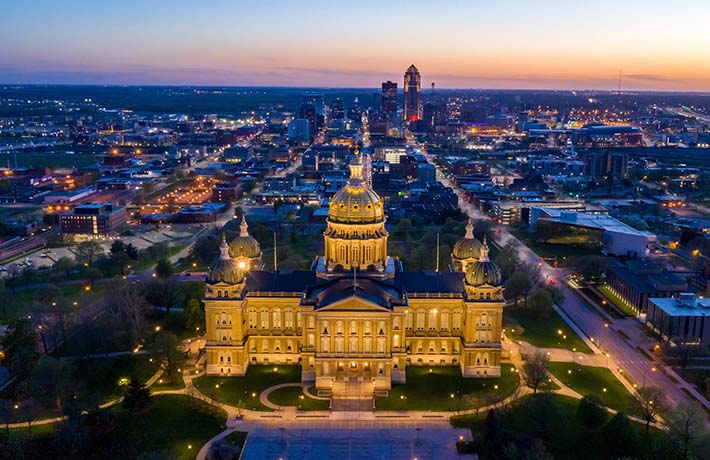 Governor Kim Reynolds has been tapped to give the GOP response to President Biden's State of the Union Address next week. U.S. Senate Republican Leader Mitch McConnell and U.S. House Republican Leader Kevin McCarthy announced the decision in a joint release Tuesday. "Governor Kim Reynolds' brave, bold, and successful leadership for Iowans has put her right at the front of th[e] pack," said McConnell. Gov. Reynolds has served as the State's 43rd governor since 2017, and she was the first woman elected to governor in 2018. While expected to run for re-election in 2022, she has not yet officially launched her campaign. The State of the Union address, normally scheduled in January, will be delivered by President Joe Biden on Tuesday, March 1st at 8 P.M. CST.
Activity on the Hill focused on floor debate this week. The chambers combined to pass over 80 bills including the Legislature's major tax reform bill (House File 2317) on Thursday, February 24th. Governor Reynolds applauded passage of the tax package as it makes significant changes to Iowa's individual and corporate income tax laws. "When I took office, Iowa had the sixth highest individual income tax rate in the nation at 8.98%. I believed Iowans deserved better. Since then, I've worked with the Legislature across multiple sessions to make transformative changes to our tax code, let Iowans keep more of their hard-earned money, and make our state more competitive. Today's bipartisan, consensus bill shrinks individual income tax rates to a flat and fair 3.9%, the fourth lowest in the nation. It eliminates state income tax on retirement income, overhauls our corporate tax system, and accelerates the incredible momentum we've built since 2018."
Additionally, the bill includes many new provisions related to "Stock Capital Gains Income Tax Exemptions," "Farm Lease Income Tax Exemptions," "Farm Capital Gains Income Tax Exemptions," as well as changes to the existing research activities credit, high-quality jobs credit, endow Iowa credit, and geothermal heat pump tax credits.
INDIVIDUAL INCOME TAX: The bill lowers the individual income tax rates over four years and consolidates the existing four brackets down to one bracket in 2026, with a single rate of 3.90%. Currently, Iowa's top individual income tax rate is 8.53%, and that rate applies to taxable income over $78,435. The bill also eliminates income tax on retirement income for disabled taxpayers and taxpayers aged 55 years or older.

In the Know
The Legislative Service Agency (LSA) has created an online, interactive budget analysis tool to break down Governor Reynolds' budget proposals. Found on The Iowa Legislature website, the tool utilizes the budget data prepared by the Department of Management and provides details regarding statewide FTEs, statewide reversion, and other department and appropriation details for FY23 and the past five fiscal years.
Governor Reynolds' Budget Bills: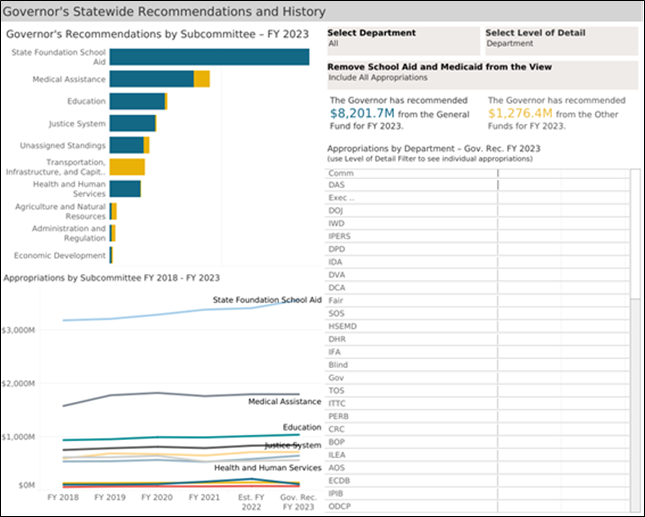 BrownWinick Government Relations:
To view additional summaries from the 2022 Iowa Legislative session or to learn more about BrownWinick's Government Relations Team, visit our Lobbying and Public Policy team page.