2022 Iowa Legislative Session - Week 14 Summary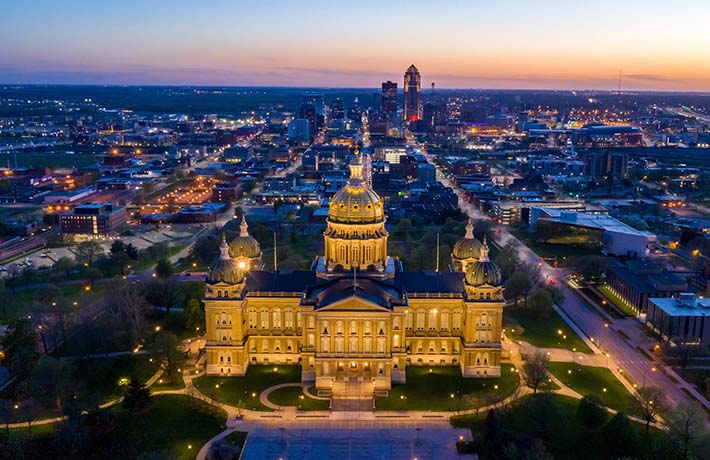 The days leading to Easter weekend are usually slow as legislators like to participate in activities back in their districts. It is safe to say that the legislature won't adjourn next Tuesday April 19th on the 100th day. At this point, it may just be safer to say, "no end in sight."
In what could have been a major shake-up in Iowa's U.S. Senate Democratic primary, former U.S. Congresswoman Abby Finkenauer survived a challenge to her nomination and will be allowed to be on the June primary ballot. Finkenauer's petitions were challenged based on the fact that a handful of signatures on her ballots were not dated appropriately. The State Objection Panel approved her nomination papers, but the Polk County District Court reversed and held that her nomination was invalid in a ruling that was filed on April 10. Finekenaur appealed and the Iowa Supreme Court heard oral arguments on Wednesday afternoon. In late-breaking news, the Iowa Supreme Court announced that it found for Finkenauer and reversed the lower court ruling that held her nomination invalid. Finkenauer lost her reelection bid in 2020 to current Congresswoman Ashley Hinson. Finkenauer faces two primary opponents in the June election: Retired U.S. Navy Admiral Mike Franken and Glenn Hurst.
On Tuesday, President Biden visited Iowa to announce that the Environmental Protection Agency ("EPA") will be issuing a national emergency waiver to allow E-15 gasoline to be sold nationwide this summer. The EPA says E-15 can be used in any vehicle 2001 or newer. The White House says the move will help "increase fuel supplies and give Americans more choices at the pump". In a press release, Gov. Reynolds said "Thank you to the Biden Administration for this very welcome news. While there is more to be done from the Administration to address high energy and fuel prices, unrestricted access to E15 is a great first step". "This action, although temporary, will ensure Iowans continued access to E-15 and higher blends of ethanol. It is critical that the EPA implements this in a way to fully allow E-15 for the entire summer driving season. I will continue to fight for our agriculture and renewable fuels industry because Iowans, and all Americans, deserve less expensive, cleaner-burning fuels."
The big news for the week at the Capitol was the House passing their proposal on Iowa's container deposit law, commonly referred to as the "bottle bill". First enacted in 1978 and implemented in 1979, lobbyists and stakeholders have advocated for changes for many years. Amendment H-8359 to SF 2378 provides certain criteria to allow grocery and convenience stores to refuse to redeem empty containers. It also increases the handling fee paid to redemption centers and any store that chooses to provide redemption services from one cent to three cents per container. The bill also grants the Attorney General's Office with civil enforcement to take action against program violators. And the proposal would also establish a legislative fiscal committee which would review program performance prior to the 2026 legislative session. The Senate passed their proposal SF 2378 on March 29 which removes retailers' obligation to redeem completely and only increases the handling fee paid to redemption centers.
In budget-related news, the Transportation Appropriations bill (HF 2557) cleared the Senate Appropriations Committee Wednesday.
HOUSE BUDGET BILL STATUS

AS OF 12 PM, APRIL 6

Bill

Bill Number

Status

Last Action

Administration & Regulation

PASSED HOUSE; In Senate Approps

03/24/2022

Agriculture & Natural Resources

PASSED HOUSE; In Senate Approps

03/23/2022

Economic Development

PASSED HOUSE; In Senate Approps

03/24/2022

Education

PASSED HOUSE; In Senate Approps

03/29/2022

Health & Human Services

PASSED HOUSE; In Senate Approps

04/05/2022

Judicial Branch

PASSED HOUSE; In Senate Approps

03/22/2022

Justice Systems

PASSED HOUSE; In Senate Approps

03/22/2022

Rebuild Iowa Infrastructure Fund

PASSED HOUSE; In Senate Approps

04/05/2022

Transportation

PASSED HOUSE; PASSED Senate Approps

04/13/2022

Standings
In the Know
Senate confirmations began this week. Iowa Code Section 2.32 requires the Senate to confirm certain Governor's appointees. The Senate must act on the confirmations by April 15 OR pass a resolution to defer the confirmations. And on Wednesday, the Senate passed two such resolutions: SR 119 and SR 120. Similar to how a bill is sent for consideration to a specific subject-area Committee, Appointees must also be discussed and passed by Committee members. Some Conferrees are required to be individually confirmed, but most are placed on the en blanc calendar and are confirmed in one vote. The individual confirmations require a two-thirds vote of the Senate which means the Conferrees need 34 votes to be confirmed. If all Republicans support a Conferree, two Democratic votes are still needed. The following persons were confirmed this week: Rodney Bradley, State Board of Education; Cindy Dietz, State Board of Education; Cassandra Halls, State Board of Education; Michael Cavin, Executive Director of the Board of Educational Examiners; Steven Lukan, Executive Director of the Iowa Department of Veterans Affairs; and Matthew Peterson, Commandant of the Iowa Veterans Home.
Retirement speeches continued this week. As reported last week, both the House and Senate honor those legislators who are retiring by having colleagues speak on the floor and allowing the honoree to make comments. The House has 18 retirements, and three more retirees were honored this week: Charlie McClintock (R-Alburnett), who is running for the Iowa Senate; Cindy Winckler (D-Davenport) who is running for the Iowa Senate; Cherielynn Westrich (R-Ottumwa) who is also running for the Iowa Senate.
The Senate introduced and passed seven Senate Resolutions honoring the following retiring Senators:
BrownWinick Government Relations
To view additional summaries from the 2022 Iowa Legislative session or to learn more about BrownWinick's Government Relations Team, visit our Lobbying and Public Policy team page.