2022 Iowa Legislative Session - Week 11 Summary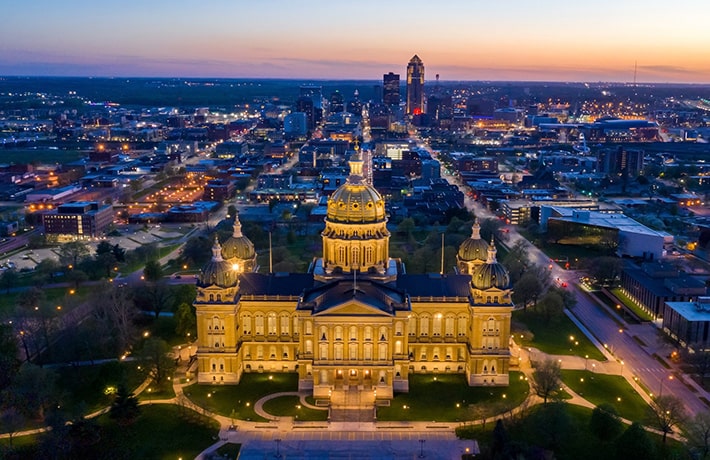 The Senate had a short week of debate with no activity Monday or Thursday. On Tuesday, the chamber did pass eleven bills off the floor. They also passed ten bills Wednesday with eight passing unanimously. Across the rotunda, House lawmakers debated eleven bills on Tuesday, four bills on Wednesday, and thirteen bills on Thursday. This included the passing of the following four budget bills:
These budget bills are not jointly agreed to by the Senate counterparts. Accordingly, they may likely be amended and sent back to the House for another round of floor debates.
A measure to address gubernatorial succession should a governor leave the office permanently or dies. House Joint Resolution 2005 provides that the lieutenant governor would then serve as governor for the remainder of the term. The resolution also provides that should the governor temporarily become unable to fulfill their duties, the lieutenant governor would act as governor until the governor can resume full duties. It would also allow a lieutenant governor who becomes governor, to appoint their own lieutenant governor.
One of these scenarios played out in 2017 when Governor Terry Branstad was appointed as U.S. ambassador to China. Then Lieutenant Governor Kim Reynolds succeeded Branstad, but Attorney General Tom Miller issued a ruling that Reynolds did not have authority to name a lieutenant governor. As a result, Reynolds ultimately named Adam Gregg as her "acting" lieutenant governor. Gregg subsequently served in the role without officially holding the office's responsibilities. Moreover, Gregg would not have been in the succession line should Reynolds have left the office.
HJR 2005 cleared the Senate on Tuesday after initially clearing the House on February 23. As an amendment to the Iowa Constitution, the measure must pass two consecutive General Assemblies. Therefore, it must pass both chambers in either the 2023 or 2024 session before it can go before Iowa voters.
In the Know
Israeli Consul General Yinam Cohen visited the Capitol Wednesday as Governor Reynolds signed two bills into law: HF 2220 regarding antisemitism and HF 2373 regarding anti-BDS of Israel. "Today we express Iowa's enduring support for the State of Israel and our categorical rejection of anti-Semitism," said Gov. Reynolds. "Together, these bills send an important message: Iowa continues to stand shoulder to shoulder with the State of Israel, one of America's most important and reliable allies, while fighting all forms of religious and ethnic discrimination."
Cohen added, "We strongly believe that both Iowa and Israel can continue to work together to create lasting partnerships that are beneficial to both states and local economies. Gov. Reynolds has been steadfast in her support for Israel, and she has witnessed firsthand Israel's achievements in innovation, water technology, medicine, and more."
The American Jewish Committee also weighed in on the bill signing: "We thank Governor Reynolds for signing into law a measure that directs Iowa to recognize the globally recognized definition of antisemitism from the International Holocaust Remembrance Alliance. We are also grateful that Governor Reynolds signed legislation that restricts the ability of companies that boycott Israel to do business with state agencies."
BrownWinick Government Relations
To view additional summaries from the 2022 Iowa Legislative session or to learn more about BrownWinick's Government Relations Team, visit our Lobbying and Public Policy team page.